Karina Smirnoff Falls on 'DWTS,' Throws Self on Stage In Tears (VIDEO)
Karina Smirnoff may be getting sent home on "Dancing With the Stars" after a tragic fall that left the professional dancer in tears.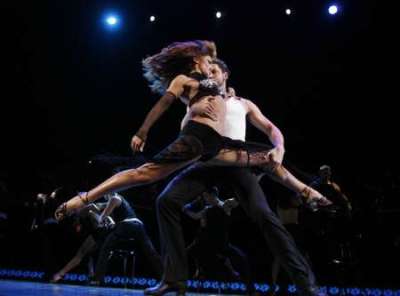 Although better known for her part in "Dancing With the Stars," Smirnoff is a professional ballroom dancer and 5-time U.S. National Champion. Smirnoff also became the champion professional partner in season 13 of "Dancing With the Stars" when she and her partner, J.R. Martinez, won the season.
But on Monday night, during the latest episode of the dance reality series, Smirnoff took what appeared to be a painful fall. While dancing with partner Apolo Anton Ohno during a hip-hop routine, Smirnoff took an unfortunate fall, landing on her knees and possibly even hitting her head.
While Smirnoff picked up where she left off, after missing a few beats at the end of the performance, the dance show veteran broke down in tears on the stage.
"I'm sorry, I feel like I messed up the whole routine," she said through her tears.
"We worked so hard this week," the dancer lamented on stage. "Please please please."
"DWTS" Pro Falls During Performance
 Both female judges attempted to comfort Smirnoff, however, stating the she was mostly too hard on herself.
"The beauty about tonight is that everyone is outside of their comfort zones Karina. You were out of your comfort zone. Every professional dancer was outside their comfort zone," Carrie Ann Inaba said. "We know that. We applaud you all."
Len Goodman suggested that he did not even notice the fall because he was more taken by Smirnoff's partner.
"Karina, to be honest I wasn't even look at you so I don't even care," Len Goodman said.