Benny Hinn Accidentally Knocks Himself Out With 'Power of the Spirit'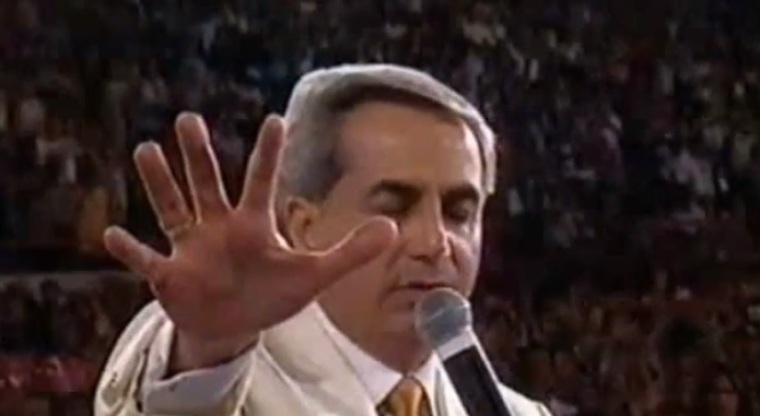 Prosperity preacher and much touted faith-healer Toufik Benedictus Hinn knocked himself unconscious by mistake thanks to what he later described as the "Power of the Spirit."
Known to some as "Benny Hinn" in partial homage to the famous British comedian and television star, the faith healer suffered the knockout at a miracle-laden revival event.
One of the few attendees at the revival whose hands were not perpetually raised explained that Hinn was going about a line of emotional people and knocking them down one at a time.
"Everything was going as normal," recalled the witness, "and then for some reason, maybe he was sweating, he touched his own forehead and then boom! He was thrown halfway across the stage."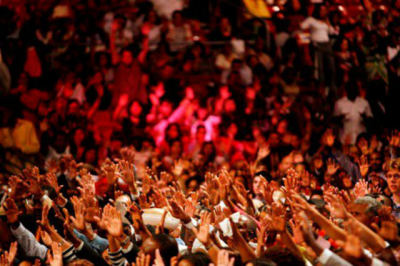 Another person present was recording the event. The audio clearly has Hinn saying: "It's the glory, the glory, the glory of God. The glory of God. The glory. The glory of — WHOOAAA!" and then a loud thud when he landed.
Unsure as to how to react, much of the audience proceeded to fall over each other soon after while about a dozen folks surrounded him to make sure he was OK.
Some spectators who got close recounted Hinn being out for several minutes and even experiencing rapid-eye-movement sleep before coming to.
"Yes, I can serve both God and money!" he reportedly shouted before opening his eyes and then returning to complete the rest of the program.
An author and renowned charismatic preacher, Hinn is widely known for his ability to use spiritual power to knock people out of their wits.
His abilities are so effective that he has a lesser-known career as a successful combatant in the Street Fighter franchise, having been personally trained by veterans M. Bison and Sagat.
"I was deeply distressed to hear about Hinn's accident," said Bison at a press conference held at his Shadaloo compound. "I hope he will heal up in time for our three-rounder this weekend."
Hinn's ministry has already launched a crowd-funding page for supporters to donate money to help with any possible medical bills.
For each person who gives at least $100, Hinn promises to cure them of any physical or mental illnesses they have, especially the problem of hoarding money.
"So give generously to my healing and I will give generously to yours," stated Hinn in a video posted to the crowd-funding page.
WARNING: THE ARTICLE ABOVE IS A WORK OF SATIRE. PLEASE SHARE RESPONSIBLY.