Colin Kaepernick's Tattoos: What's the Christian Quarterback's Bible-Based Body Art Mean?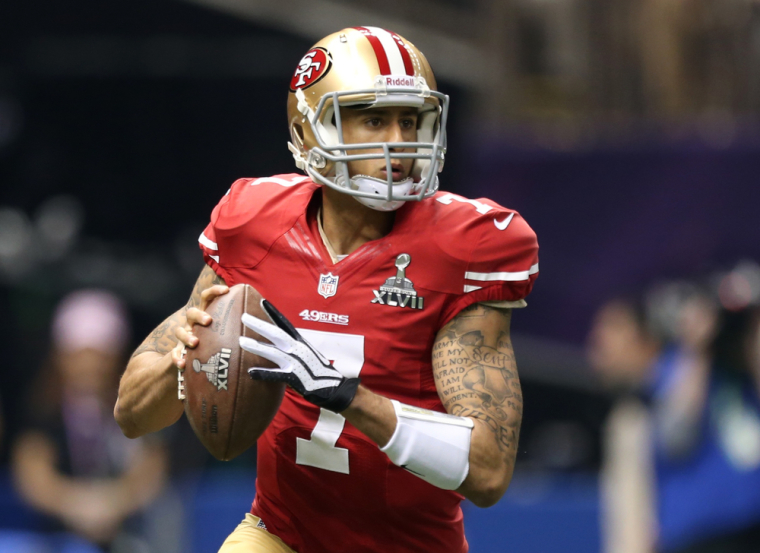 Colin Kaepernick, San Francisco 49ers quarterback, has attracted as much attention for his skills on the football field as he has for the very visible tattoos that mark his body, especially his throwing arm, which makes him a rarity in the NFL.
Kaepernick, 25, shared that his first tattoo was Psalm 18:39, set on a scroll on his right shoulder. The Bible verse reads: "You armed me with strength for battle; you made my adversaries bow at my feet."
"Basically, it's saying the Lord is giving me all the tools to be successful, I just have to go out and do my part to uphold that," he explained earlier this year.
Despite the deep meaning behind his tattoos, Kaepernick's inked upper body was such a shock to David Whitley, that the sportswriter compared the University of Nevada (Reno) graduate to a prison inmate.
"San Francisco's Colin Kaepernick is going to be a big-time NFL quarterback. That must make the guys in San Quentin happy," Whitley wrote in a 2012 article.
He added, "NFL quarterback is the ultimate position of influence and responsibility. He is the CEO of a high-profile organization, and you don't want your CEO to look like he just got paroled."
There was plenty of pushback when Whitley's Sporting News article appeared, and Kaepernick's parents were among his many critics.
"It annoyed me," Teresa Kaepernick, Colin's adoptive mother, told USA Today.
His parents revealed that they never ecnouraged Kaepernick to get tattoos, which he first started discussing early in his college career.
According to his father, the QB "was baptized Methodist, confirmed Lutheran and went to a Baptist church in Reno."