Star Athlete Paralyzed by Drunk Driver, But High School Sweetheart Stays With Him - See His Surprise Proposal (VIDEO)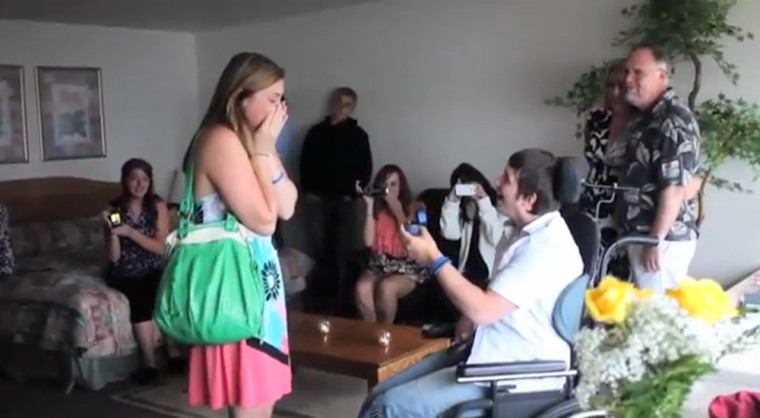 Larry Ragsdale was a football and track star in high school, and he was running track at Lane Community College in Eugene, Ore. with dreams of competing at the University of Oregon. He would soon propose to his high school sweetheart and best friend, Kelcie Yeoman, during a family trip to Disneyland. And then on March 10, 2010, a drunk driver changed everything.
Shane Chambers of Corvallis, Ore. was intoxicated when his Jeep crossed the center line and slammed into Ragsdale's Chevy Cavalier. Chambers received treatment and was arrested, his third DUI. Ragsdale was in a coma for several months, but he eventually awoke. He would likely never regain his former life, suffering permanent brain damage and paralysis from the crash.
Larry's one constant, however, was Yeoman, who never left his side. When he was moved to an adult care facility, she got a job there to be close to him everyday. And, in time, he proposed and she said yes.
This video was for an Indiegogo campaign last fall to fund a dream wedding where Ragsdale had planned to propose, Disneyland. Donations blew past the goal of $20,000, totaling $27,592, and the wedding is in planning now.