The Body Armor of God: 5 'Real Life' Times the Bible Has Stopped a Bullet (VIDEO)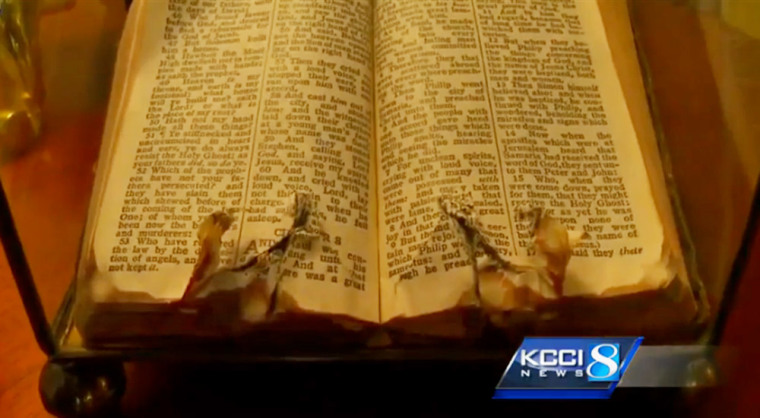 In Ephesians 6:17, Paul refers to the Word of God as the 'sword of the Spirit'. Hebrews 4:12 also pictures the Word as a weapon, sharp enough to divide soul and spirit, joints and marrow.
But the Scriptures have some potent defensive properties, too, serving on various occasions as a sort of God-breathed Kevlar body armor. In fact, here are five times the Bible stopped a speeding bullet.
1. AUGUST 2007 - RUSTAMIYAH, IRAQ
Army Pfc. Brendan Schweigart was working on a broken-down tank when a sniper shot him. The bullet went through his left arm and his chest, stopping in the Bible he was carrying. If not for the Bible, it likely would have bounced off his body armor and re-entered his chest. No internal organs were hit, and Schweigart survived.
2. NOVEMBER 2006 - JACKSONVILLE, FLA.
A 54-year-old man was taking out his trash when he was ambushed by two men with a rifle, who then fired on him. One bullet brushed his cap, and another was buried in a small Gideons Bible in his shirt pocket.
3. APRIL 2008 - HAMBDEN TOWNSHIP, OHIO
A 17-year-old was hunting deer when a stray shot hit a young family's home. The slug pierced several walls and was stopped by a Bible in a bedroom closet.
4. MAY 2009 - BUENOS AIRES, ARGENTINA
When a pastor didn't produce any money during a mugging, one of the assailants shot him point-blank. The pastor held up his Bible, which stopped the bullet. The muggers fled.
5. DECEMBER 1944-JANUARY 1945 - ARDENNES
During The Battle of the Bulge in WWII, John Phillips' unit was ambushed by a group of Germans. He was shot five times, but the bullet destined for his heart became lodged in the New Testament he carried on his chest.
+ + +