Animated adaptation of John Bunyan's 'The Pilgrim's Progress' hits big screen ahead of Easter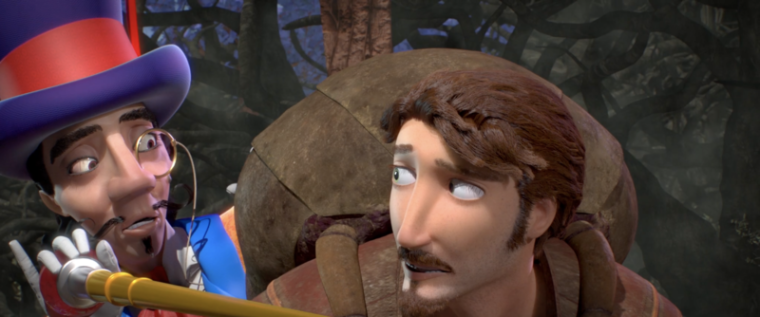 The Pilgrim's Progress is perhaps one of the most disturbing and convicting allegories in history that has become a staple in Christian homes around the world for centuries. Now, the iconic book is hitting the big screen in a CGI-animated adaptation just in time for Easter.
Steve Cleary, founder of Revelation Media, the company producing "The Pilgrim's Progress," told The Christian Post that the story is "timeless," selling more copies than any other Christian book, second only to the Bible.
"It's the Christian journey," he said. "When we watch 'The Pilgrim's Progress,' we are Christian on our individual journeys from the City of Destruction to the Celestial City. This is the journey of every believer, of staying on the straight path and allowing the King's grace to help us when we fall and face trials. Everyone is on a path that leads to a destination. This movie shows you the King's path and what it will look like: It has wonderful help along the way, but you will have to battle."
Cleary, who has worked with persecuted Christians through Voice of the Martyrs for decades, said that he has always been intrigued by Bunyan, who wrote The Pilgrim's Progress while in prison for preaching the Gospel. Cleary's own spiritual mentor, Pastor Richard Wurmbrand, was also imprisoned for his faith and wrote the international best-selling book, Tortured for Christ.
"John Bunyan has always been a hero to me because he spent 12 years in prison for his faith even though he could've been released if he agreed to stop preaching. He refused to do so, even though it meant giving up his family," he said. "Ironically, he's become one of the greatest preachers of all time as a result of The Pilgrims Progress — how many pastors are still impacting us today from 350 years ago?
"We wanted to stay true to the book and produce a film that John Bunyan would be proud of. I believe we did that."
Revelation Media launched a Kickstarter campaign during the film's early stages which helped raise over $60,000 to help with the completion of the project and its translations. The response to the film in the United States, Cleary said, has been encouraging, despite financial and technological limitations.
"People who are diehard fans of the book are telling us, 'Two thumbs up, you honored the story,'" Cleary said. "This story holds a biblical truth even though it's fantasy. To some, it's been encouraging, to others convicting, and to still others, a call to the life they should be walking."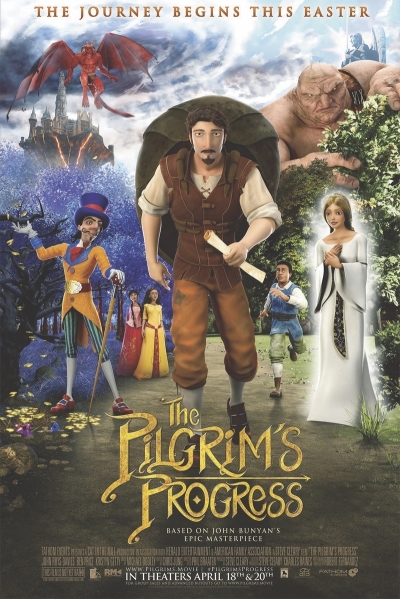 From a terrifying giant named Despair to nightmarish dangers on the road to the Celestial City, John Bunyan's 1678 book isn't your typical bedtime story. One scene in particular strikes a nerve with U.S. Christians, Cleary said: The Vanity Fair lures pilgrims with promises of happiness, wealth, and indulgence, and it threatens death to those who dare to refrain from the revelry.
"Across the board, Vanity Fair is either viewers' favorite or least favorite scene," he said. "We want decadence, indulgence, happiness, wealth, and the ability to enjoy the finer things in life, yet Bunyan tells us those things are what will draw us away from Christ."
He pointed out that Vanity Fair is on the road to the Celestial City, meaning travelers cannot go around it.
"Many people travel through Vanity Fair and never leave," he said. "In the Vanity Fair scenes, the characters look a little more plastic, and that was intentional because I believe that's what happens to a Christian who loses their soul to this world. As they lose their soul, they become a reflection of this world, which doesn't have life. Vanity Fair truly believes their fair is fabulous, but in the end, it only brings death."
"In a way," he continued, "I think American Christians are guilty of trying to create a Vanity Fair. Maybe we don't want the sinful aspects, but are we investing our time in happiness on earth? Or are we investing our time and talents for the Kingdom? As happy and comfortable as we make our homes and communities, these things will be destroyed."
Cleary's vision for his film is far-reaching: "The Pilgrims' Progress" is being translated and re-voiced into over 26 languages to be donated to missions organizations operating in countries where Christians are severely persecuted.
"We're going to Iran and China, two of the most dangerous countries in the world, with this film," he revealed. "There are people in prison in China who were caught with The Pilgrim's Progress; it's on the arrest documents that they were in possession of an 'evil cult book.' They're serving years in prison for that 'crime,' yet they want copies of this movie."
"Yes, the movie is done, but a different journey lies ahead of me; now I need the armor of God to do the work of an evangelist, using the tool that God gave us, giving it back to the Church and missions community."
Cleary told CP that while he hopes "The Pilgrim's Progress" convicts, comforts, and entertains viewers, he ultimately prays they realize that the Christian walk isn't easy — but the King's grace is always sufficient.
"Christian isn't perfect; you aren't going to watch a film about a perfect person. He's deeply flawed. But the King is there the whole time, helping him with his journey all the way to the end," he said.
"That's my prayer and my message. And I hope people use this film as a tool to evangelize. There's no greater blessing than to faithfully walk the road to the Celestial City, bringing others along with us."
"The Pilgrims Progress" features John Rhys-Davies ("The Lord of the Rings"), Kristyn Getty (In Christ Alone), and Ben Price ("America's Got Talent"). The film is in select theaters April 18 and 20. To learn more about "The Pilgrim's Progress," click here.