19-Y-O Killed, Brother Injured in Church Assault by Parents to Allegedly Make Them Confess Sins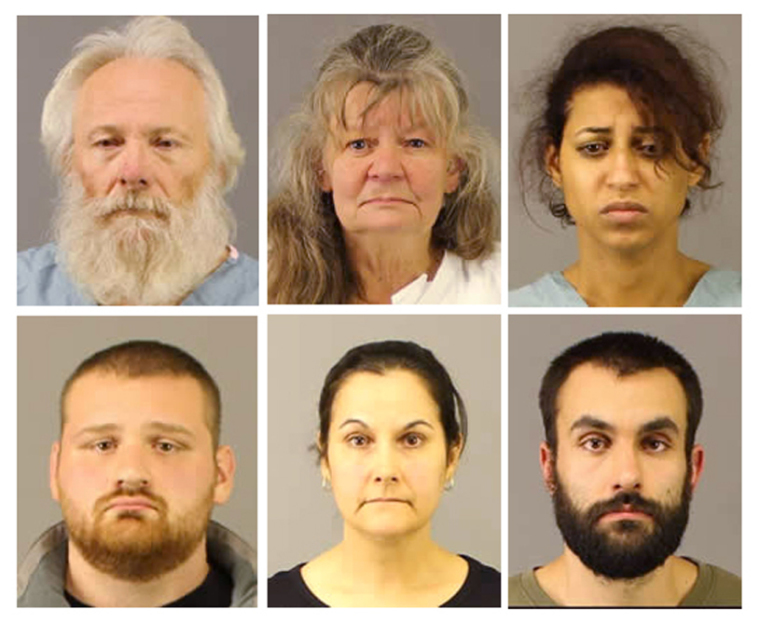 A 19-year-old youth was allegedly beaten to death and his 17-year-old brother severely injured during a brutal attack by their parents, sister and three other members of their upstate New York church in a bid to force the teens to confess sins — which are still unclear, say police — and the incident has left neighbors in their New Hartford community stunned.
According to WRAL, Bruce Leonard, 65, and his wife, Deborah Leonard, 59, of Clayville, were charged with first-degree manslaughter in the death of their son Lucas Leonard, 19, who died Monday after he was beaten at Word of Life Church in New Hartford, New York, some 80 miles northwest of Albany.
Police say what began as spiritual "counseling" at the church on Sunday night turned into an hours-long attack in which Lucas and his 17-year-old brother, Christopher, were battered with fists and kicked, causing injuries to their abdomen, genitals, back and thighs, according to The Associated Press.
"Both brothers were subjected to physical punishment over the course of several hours in hopes that each would confess to prior sins and ask for forgiveness," Police Chief Michael Inserra said at a press conference Wednesday afternoon. He explained that investigators had not yet identified the sins the brothers had supposedly committed.
Christopher Leonard is being treated at a local hospital and is expected to survive.
"As of right now, we don't have any indication that he's not going to survive. But, I mean as with anything health-related, you know, you never know. ... But at this point, we're proceeding as an assault on him," Oneida County District Attorney Scott McNamara told TWC News.
Joseph Irwin, 26; David Morey, 26; Linda Morey, 54 and 33-year-old Sarah Ferguson were also all charged with one count each of second-degree assault for the attack on Christopher Leonard, according to the Utica Observer-Dispatch. The AP identified Sarah Ferguson as the victims' sister. All defendants have pleaded not guilty to the charges levied against them and will next appear in court on Friday for a preliminary hearing.
New Hartford police say at about 12:30 p.m. Monday officers responded to a call from the St. Luke's campus of the Mohawk Valley Health System where a gunshot victim reportedly arrived in a private vehicle.
Police say the reported gunshot victim, Lucas Leonard, appeared to have suffered extensive injuries from blunt force trauma, rather than a gunshot wound, and he died from those injuries. They later responded to another call at the Leonards' home in Clayville about a "firearm accident."
Upon further investigation, however, they determined that the Word of Life Christian Church at 3354 Oneida St. in Chadwicks was where the assault had taken place. There they found Christopher Leonard suffering from injuries.
After interviews with several church members, seven children — four of them Ferguson's — were turned over to Oneida County Child Protective Services.
Police said more arrests are expected as the investigation continues.
"We're not alleging that they intended to kill their son," Inserra said of the parents, but "they were attempting to seriously hurt their son, and he died as a result."
Oneida County Assistant District Attorney Mike Nolan said Deborah and Bruce Leonard were charged with "very serious felonies of multiple victims."
"The probability of conviction is somewhat very high," he said at the arraignment Tuesday, according to the Observer-Dispatch.
According to the AP, the brothers lived a very sheltered life with their highly religious parents in nearby Clayville, a village of 350 people, in a two-story, wood-frame duplex. A neighbor said Ferguson lived with them, along with her own children, in the attic.
The brothers reportedly read the Bible two hours a day at their parents' insistence and "weren't really allowed to go out of their house" for sleepovers, another neighbor, Nicole Howard, told the AP. They "weren't allowed to do normal things, but they tried to be as normal as they could be."
Bruce and Deborah Leonard also home-schooled the brothers and eschewed their watching television. One neighbor, Jim Constantine, said they also dismissed Halloween by leaving their home or turning off all the lights so people wouldn't bother them.
Constantine noted, however, that he would routinely hire Lucas, including this past weekend, to watch his dog when he was away and never had a problem with him.
"Pleasant kid. No bad talk," Constantine said. "No nothing."
Eva Monaghan, who lives around the corner from the church and is a lifelong resident of the area, told the AP that she was evacuated from her home for eight hours when police arrived.
"I'm really afraid. In my heart I don't think this is the first incident," she said. "Over all the years, I can't imagine this is the first thing. Maybe nothing as bad. Around town, it's considered a cult."
Bail for the Leonards was set at $100,000 each and $50,000 each for the four other defendants.