2 Million Protesters Demand South Korean President Resign Over Major Shaman Cult Scandal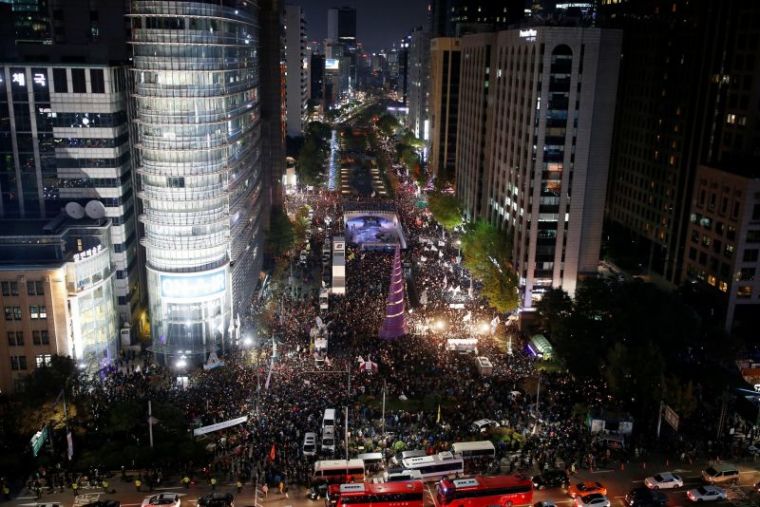 Around 2 million demonstrators in South Korea called for the resignation of President Park Geun-hye on Saturday over a major scandal involving her 60-year-old confidant, who is the daughter of a Shamanistic cult leader.
The crowd gathered at the Blue House, the presidential residence, in Seoul to demand Park's resignation over allegations that she allowed Choi Soon-sil, who does not hold an official government post, to mastermind governmental policy and decision making and thereby accumulate millions of dollars in donations to her foundations, according to CNN.
Protests against Park, who was baptized in the Catholic Church when she was a student at the Jesuit-run Sogang University, have been taking place for over five weeks. Park later reportedly identified herself as having no religion.
Choi, the daughter of a South Korean Shamanistic cult leader, Choi Tae-min, from the Eternal Life Church, has allegedly been allowed to view confidential documents and presidential speeches, and is charged with abuse of power, fraud and coercion.
Choi has reportedly received spiritual guidance from her father for years.
Shamanism is a practice that involves a practitioner reaching altered states of consciousness in order to perceive and interact with a spirit world and channel these transcendental energies into this world.
A Wikileaks cable released last month shows that the U.S. embassy in Seoul described Choi's father in 2007 as having "complete control over the body and soul of the president in her formative years."
Park has apologized but remains unwilling to step down.
Choi has also asked for forgiveness. "Please, forgive me. I'm sorry," Choi said inside the Seoul prosecutor's building last month, according to the Time magazine, which said she also wept and added, "I committed a sin that deserves death."
"It's much more than simply, 'Oh she knows this person,' it's deeply intertwined, almost like they're Rasputin and Park Geun-hye is just a puppet," David Kang, director of the Korean Studies Institute at the University of Southern California, was quoted as saying.
Choi used her proximity to Park to pressure businesses to donate around $70 million to two nonprofit groups that she controlled, and allegedly also used some of the funds for personal purposes, according to reports in local media.