2 Miraculously Survive Car Crushed by Shipping Container in China: 'We Didn't Expect Anyone to Be Alive,' Says Firefighter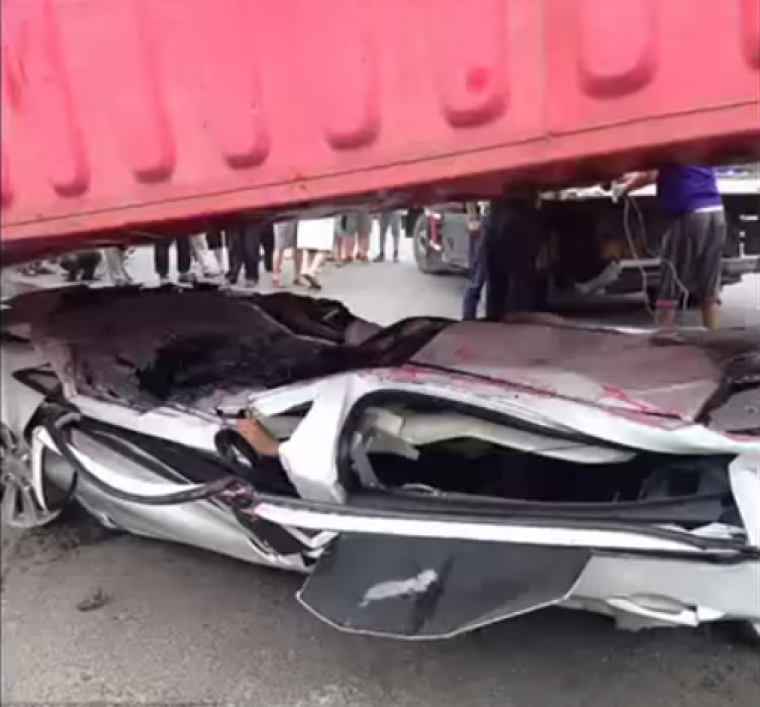 Two people survived being crushed by a shipping container in a car accident Saturday, according to reports. The couple was driving in Qingdao, China when a truck swerved and the huge metal structure flattened their car, but miraculously, firefighters were able to pull both of them out alive.
The two people, a woman and men who were left unnamed in reports, had been driving behind a large truck in when the incident occurred. The truck swerved hard to avoid another car on the narrow road and the large shipping container fell off, squashing the car behind it, according to The Mirror.
"We had a call about the accident to say that a [truck] had fallen onto a car," local fire brigade spokesman Chi Tang explained. "We didn't expect anybody to be alive but then we heard a woman's voice and realized that actually somebody had survived."
Emergency services had arrived and thought they would be there to clean up the mess, but they then spotted the woman's arm reaching out the window to give the "thumbs up" sign. From there they began working to free her and her male companion.
"We had to bring in a 100 tonne crane to make sure we lifted the container off carefully and we found the car had been crushed so badly that there was only 60cm of space left inside," Tang said. "It was an incredible scene when we pulled the woman out and found that she was almost unhurt apart from cuts and bruises."
The woman was simply pulled free without suffering much harm, though she was taken to a hospital to be treated for shock. The man had to be cut out of the crushed vehicle and was hospitalized, and should recover. The truck driver that swerved was also hospitalized with minor injuries, Daily Mail U.K. reported.