2,000 Oregon Residents Show Up to Stop Westboro Baptist Protesters at Funeral of Fallen Soldier (VIDEO)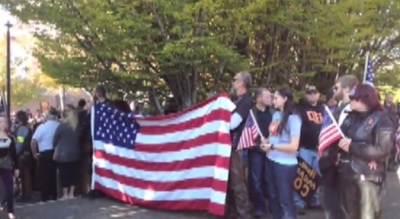 Thousands of citizens in Corvallis, Oregon banned together this past weekend to prevent controversial group, the Westboro Baptist Church, from protesting the funeral of a fallen Army Ranger who was killed by an explosion in Afghanistan earlier in October.
Nearly 2,500 citizens showed up at the Oregon State University's LaSells Steward Center on Sunday to stop members of Westboro from protesting the funeral of 24-year-old Pfc. Cody James Patterson, who was killed on Oct. 6 in the Zhari district of Afghanistan when an improvised explosive device went off near his squadron while en route to stop a suicide bomber. He and three other soldiers were killed as a result of the explosion. Patterson was born and raised in Corvallis and graduated from Philomath High School in 2007, entering the Army Rangers program shortly after.
Prior to Patterson's funeral, Matt Enloe, a junior at Oregon State University, had caught wind of Westboro's plans to protest Patterson's funeral and created a Facebook page, "OSU Support for the Patterson Family," to garner support that he hoped would discourage Westboro members from attending the funeral. Westboro is considered an extremist group by most mainstream Christian churches and secular groups, and is well-known for its aggresive protesting style.
Joseph Hedberg, a National Guard veteran who also helped to organize the anti-Westboro protest, told local news channel KATU that he and others wanted to keep the ceremony peaceful and respectful for the fallen soldier.
"We want to be completely peaceful, and we want to just represent the country that he fought and died for by having the American flag out here to keep the signs covered," Hedberg said.
A video capturing the large turn-out shows the Patriot Guard Riders, a group of motorcycle riders, attending the funeral to protect it from Westboro protesters. The video also shows thousands of attendees lined up outside the OSU LaSells Steward Center holding American flags to prevent the Westboro protesters from getting close to the funeral venue.
The video showing the large turn-out says: "One thing is for sure, the Westboro Baptist Church did something good today. They inspired thousands of people of all ages, religions, and beliefs to stand together."
A similar inspirational response happened in Newtown, Conn. when Westboro tried to protest the funeral of one of those killed in the mass school shooting at Sandy Hook Elementary School in December 2012. Good Samaritans and members of the Patriot Guard Riders successfully formed a human wall outside of the funeral procession to prevent Westboro protesters from being seen at the event.