3 Top Factors Changing Global Christianity Identified at Global Christian Forum
3 Top Factors Changing Global Christianity Identified at Global Christian Forum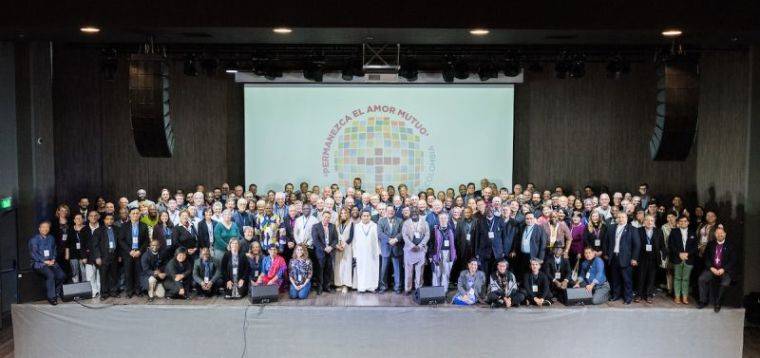 The top three factors that are changing the face of global Christianity were identified during a session last week at the major Global Christian Forum meeting in Bogotá, Colombia.
Gina A. Zurlo, assistant director of the Center for the Study of Global Christianity at Gordon-Conwell Theological Seminary in South Hamilton, Massachusetts, said that the rise of the Christian faith in Africa is one of the main changes the Church is seeing right now.
The other two she listed were the rise of independent Christianity and Christians who self-identify separately from Catholics, Orthodox, and Protestants.
Citing the Center's Atlas of Global Christianity, Zurlo noted that 32 percent of the world was Christian in 2010, down from 35 percent in 1910.
And while Christianity was highly concentrated in Europe and North America in 1910, there has been a near 100-year decline of Christian affiliation in the global North.
Major religious surveys, such as one in November by the American Culture & Faith Institute, have shown that the percentage of born-again Christians in America continues declining while the non-religious, or nones, are on the rise. 
Christianity in the South, however, has "increased substantially," Zurlo explained, particularly in Africa.
Zurlo highlighted the changes, especially in sub-Saharan Africa, where in 1970 there were roughly about 134 million Christians, growing to an "astounding" 621 million in 2018.
"In a sense, we can conceptualize Christianity in sub-Saharan Africa as 'continuity' over the 48-year period. Christianity continues to grow, although now at a slower rate," the researcher continued.
As for Christians in the Middle East, the situation is dire though there has been an increase in believers there. 
"This region was home to 12 million Christians in 1970 and 25 million in 2018, but these figures hide the tragic exodus of historic Christian communities in the region, despite roughly 400 years of Christian stability in the region before the 20th century," she said.
"Looking at the two dates comparatively reveals a downward trend of Christian affiliation due to war, strife, and persecution," she added.
"It is critical to keep the story of Christianity in the Middle East at the front and center of discussions of world Christianity to prevent the narrative of 'growth' from overcoming the narrative of struggle and survival."
Mor Ignatius Aphrem II, Patriarch of Antioch, All the East and Supreme Head of the Universal Syrian Orthodox Church, lamented the exodus of Christians in Syria during his address at the third annual Global Christian Forum meeting, which last week brought together Christian leaders and representatives from a variety of denominations.
"Today, we continue to suffer persecution at the hands of terrorist groups such as ISIS, Al-Nusra and others, who are targeting Christian congregations and have completely destroyed many of our churches and other institutions," the patriarch said.
Still, he said that the few remaining Christians in Syria "will continue to embrace the Cross of Christ" as their salvation.