350,000 Evangelicals March in World's 'Largest Christian Event' in Brazil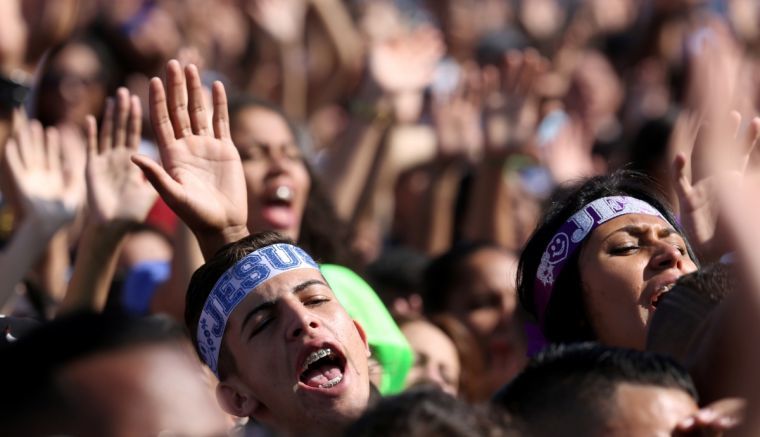 Two events of massive proportions took place in Brazil this past week, one bringing together hundreds of thousands of Evangelicals in the annual "March for Jesus," and only days later, the Sao Paulo Gay Pride Parade drew two million participants.
The Associated Press reported that on May 26, Sao Paulo welcomed over 350,000 evangelicals for the annual "March for Jesus" event, focused on Protestant unity in the largely Roman Catholic country.
While police failed to provide an estimate of the size of the crowd, The Reborn in Christ Church, which organized the march, said that it exceeded last year's attendance, which numbered 350,000 people.
Organizers said that the march was the "largest Christian event in the world," revealing that evangelicals marched close to three miles and celebrated their faith at a religious music show in the city's downtown square.
Just days later on Sunday, AAP reported that as many as two million people marched in Sao Paulo to mark the 20th parade for LGBT rights in the country, chanting slogans such as "Gender Identity Law now! - Everyone together against trans-phobia."
Part of the gay rights march focused on pressuring the government to pass legislation that will make it easier for transsexual people to change their names on civil and public documents.
Evangelical Focus noted that the "March for Jesus" event began in London in 1987 and has since been celebrated in many different countries, but its largest impact remains in Brazil.
Church leaders, such as Bishop Fernada Hernandes Rasmussen, hailed the event, and said in an interview posted on the event's official website:
"We can say that March for Jesus is an event for the family! It's the biggest popular manifestation on world! It's the people of God's party. We have to celebrate that we have freedom to show our faith! March day is an opened skies day. Is living the happiness, that is Christ salvation in us!"
Apostle Estevam Hernandes, precursor of gospel music in Brazil, added:
"Today, if you need a way, know that Jesus Christ is the way, the truth and the life. He is here. Because of that, if you let Jesus Christ enter in your heart, He will transform the history of your life. Don't let your future uncertain. Give all your ways to Jesus...this March would have no sense if it hadn't salvation!"
Bishop Sonia Hernandez reflected that the March revitalized the faith in many people's lives.
"I'm so full of the Presence of God, I saw women that for the last time go to the march sterile, I saw homes being restored. Jesus is in this place. I'm very grateful, and I know what I'm saying, I can not describe the extension, but I know that the Lord marked lives in a way that I've never seen in any march," she said.