5 Interesting Facts About Lindsey Graham's Christian Faith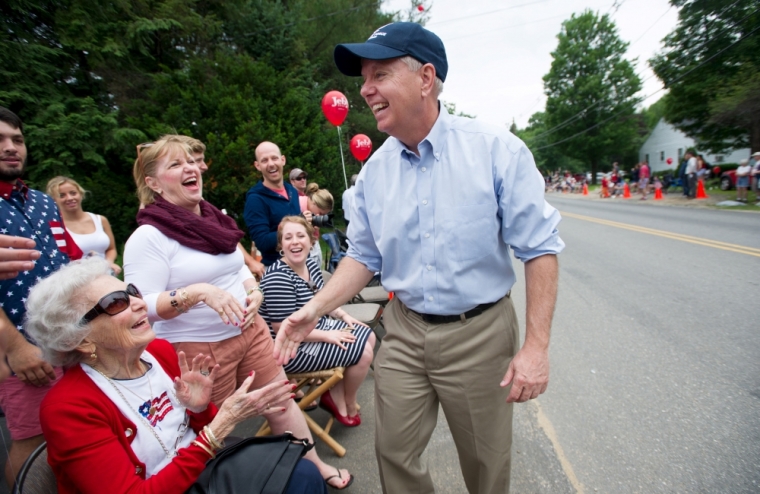 At the moment, Lindsey Graham may be more known by some for attracting the ire of Donald Trump than for his presidential run. So far he has not polled well among the field of Republican presidential contenders.
Graham was elected to the U.S. House from South Carolina in the 1994 Republican Revolution and to the U.S. Senate in 2002, where he succeeded Strom Thurmond.
When Graham's parents died when he was in his early 20s, he adopted his younger sister when she was 13. She has praised Graham as a strong father, brother, and even a mother figure to her.
Graham is an attorney who served in the Air Force and Air Force Reserve before retiring as a Colonel in 2015. He is known for his deep friendship with Sen. John McCain, hawkish foreign policy positions, and having never married.
Below are five interesting facts about Graham's Christian faith:
1. Graham has said he doesn't like it "when a politician gets too preachy."
South Carolina's senior senator offered the comment last year at a forum sponsored by Palmetto Family, an organization committed to promoting biblical principles in the centers of influence.
2. The presidential hopeful says he represents people of all or no faith, but is not ashamed to say he follows Jesus.
"We live in a very diverse country. The First Amendment allows us to worship God on our terms or not at all. I am a United States senator. There is a time and place for everything. I unashamedly accept Jesus Christ as my Lord and savior. But I represent the entire state," he told a reporter last year.
3. Graham is known for slipping into his home church, Corinth Baptist in Seneca, South Carolina, just after it starts and slipping out before the final prayer.
Two of his friends at the church in Seneca stated that Graham does that to keep a low profile. Graham is Southern Baptist and holds membership at the church.
4. Graham has said on several occasions that "we're in a religious war."
"We're in a religious war," declared Graham. "These are not terrorists, they're radical Islamists."
In speaking about ISIS and other radicals Islamists, Graham added that "their way of life is motivated by religious teachings" and that President Obama is "trying to diminish the religious aspect of this war." Graham has stressed that ISIS can't be "negotiated with" or "accommodated," they "have to be destroyed."
5. Graham has joked that Baptists are "the ones who drink and don't admit it."
CNN reported a story in January that somebody recorded Graham joking at a private meeting at an "all-male club" in Charleston, South Carolina. Many have heard the oft told joke about Baptists and Graham has reportedly told it publicly, too. However, some people might be more offended that Graham dropped the "F" word during his talk.
He joked, too, at the event that if elected, "white men in all male-only clubs are going to do great in my presidency." When CNN reached out to Graham, he said he was making fun of the club for being one of the last exclusive male organizations and added, "I hope this doesn't reflect poorly on the club. They are great guys." Graham said he gave a serious speech regarding radical Islam and religious liberty after he finished with his attempt at humor. The attempt at humor was expected, which Graham compared to the annual Gridiron Club Dinner.