50-Y-O Mom Accused of Pimping Three Teenage Daughters for as Little as $20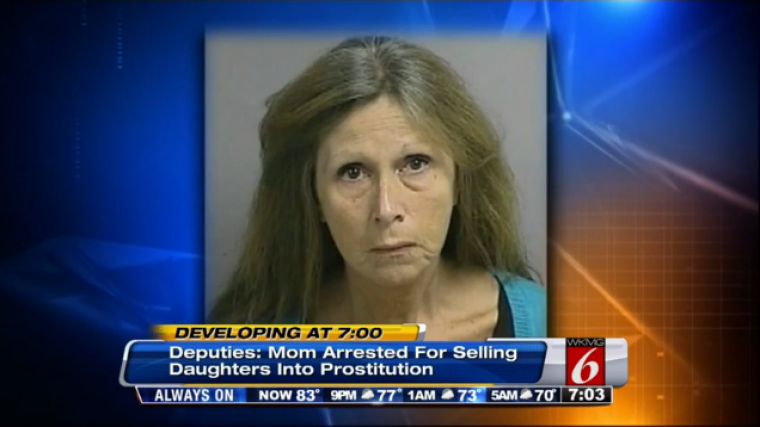 A 50-year-old Florida mother was arrested and jailed last Thursday for allegedly pimping her three teenage daughters in a family run prostitution ring.
The Orlando Sentinel reported that Paula Howard, of St. Cloud Fla., allegedly served as the madam for her three daughters aged, 16, 17 and 18 in the West U.S. Highway 192 prostitution ring.
According to the Osceola County Sheriff's Office, Howard approached an undercover detective posing as a "John" in front of a bus stop at about 2:30 p.m., Thursday, and made arrangements for him to have sex with one of her daughters.
The unidentified daughter reportedly then jumped into the detective's car and told him: "Oh yea. That's my family, but don't even worry about it. They know what I do," according to police documents.
"During our investigation it was revealed that Paula willing(ly) allows her juvenile child to commit sexual performance on an adult, procured her juvenile child for prostitution, contributed to the delinquency of a minor, as well as deriving support from the proceeds of prostitution," a deputy wrote on the incident.
A WKMG local 6 report noted that Howard's 18-year-old daughter, Samantha Howard, was also arrested and charged with prostitution due to her age. Her two younger sisters were placed in protective custody.
Officers expressed concern over the young girls' willingness to prostitute themselves so easily and speculated that their illicit activity may have been going on for some time.
"They were willing to do this. It's probably because maybe the mother had forced them to do this for some extended period of time," noted Twis Lizasuain of the Osceola County Sheriff's Office.
Howard reportedly later told police that she was aware of her daughters' behavior for about a month and said her girls also used drugs.
She is currently in jail in lieu of $36,000 bail after she was charged with "child abuse without great bodily harm, causing to become delinquent, living off the earnings of prostitution, procuring a minor under 18 years old for prostitution and allowing a child to engage in sex," according to the Sentinel.