78-Year-Old Boston Runner: PHOTOS, VIDEOS of Bill Iffrig Go Viral After Boston Marathon Bombings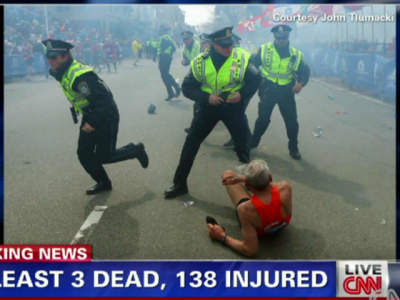 A photo of a 78-year-old Boston runner has gone viral, showing marathon runner Bill Iffrig being knocked to the ground by the first of two bomb explosions to hit the Boston Marathon event on Monday.
The 78-year-old was just yards from the finish line, having run more than 26 miles, when the first explosion took place. Photos and videos showing Iffrig stumbling and then collapsing on the floor from the weight of the blast impact have been shown thousands of times on networks across the world.
Iffrig, from Washington state, can be seen in one photo lying dazed on the floor as a group of police officers run to the scene of the bombing next to him. The image has been repeatedly used to portray the terror and confusion to hit the famous sporting event in Boston on Monday in which 3 people have died and more than 170 others injured.
The man was running in his third Boston Marathon and has since said that he was feeling "pretty good" as he was about to cross the line in a respectable time of just over four hours. However, as he jogged towards the line about 20 feet away, the first of two explosions took place from the buildings next to him. Iffrig could be seen wobbling and then stumbling to the ground as the impact of the blast hit his legs.
"The shock waves must have hit my body, and my legs just started going like noodles," Iffrig later told ESPN, "and I knew I was going down right there."
The runner has confirmed that he was not knocked unconscious by the blast or fall, but that it did take him a number of seconds to regain his bearings after hitting the ground, and to realize what was happening.
"I made an attempt to get up, and one of the assistants came over and gave me a hand," Iffrig said. "He went over and walked me to the finish line so I can finish."
He has described having ringing in his ears following the blast and had scrapes on his legs. However, he declined the use of a wheelchair as he exited the area in the aftermath of the blasts, to make his way to his hotel about six blocks from the finish.
"My ears are still not the same right now," said the retired builder.
His son, Mark Iffrig, who lives in Seattle, has spoken to the Associated Press and described how finding out about the explosions was "horrible." He said about speaking to his father after the tragic turn of events: "He said it was quite a concussive blast. He was a little dazed."
"He's a hell of a runner," Mark Iffrig said.
Here is a video news report with Bill Iffrig: