A Police Dog in Spain Performed CPR on Officer
For many, dogs are still man's best friend, a general rule that even cat lovers will hardly disagree with — especially not with this viral video of a police dog that went the extra mile to learn CPR so he can save the life of his buddy.
Dogs are no strangers to being lifesavers, having served alongside police and emergency personnel in many capacities — as guides, bomb sniffers, guards, and rescue helpers, to name a few.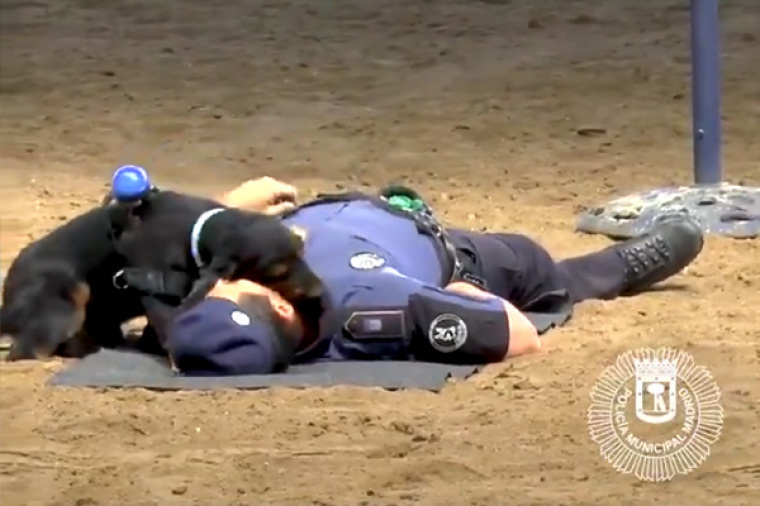 Cardio-pulmonary resuscitation, it seems, could be another advanced skill that canines might be adding to the list, as seen in this video posted by the Madrid Police Force on social media this Friday, June 22. Poncho, a police dog in Spain who has been taught to perform CPR, showed off the results of his training in a short demo.
In the clip, a police officer doing the demonstration pretended to collapse on the ground. This prompted Poncho to run over to check on the "fallen" cop, complete with a blue police light to mark him off as an emergency responder, as recapped by Newsweek.
Poncho then jumps up and down on his chest, nestling his head on the officer's neck seemingly to check the pulse of the officer.
"'Heroic' performance of our #Compañerosde4Patas Poncho, who did not hesitate a moment in 'saving the life' of the agent, practicing the #RCP in a masterful way," the official Policía de Madrid twitter handle wrote for the caption.
"The dog is the only being in the world that will love you more than he loves himself- John Billings #Adopta," the post continued.
Earlier this month, a heroic pit bull was also hailed as a hero after she warned her owners that their house was on fire. Sasha, the 8-month-old pup then went as far as to try to carry off the baby by lifting her by the diaper, to attempt to carry her off to safety once the California homeowners were alerted of the fire.