Actor Morgan Freeman Explores Miracles in Final Episode of 'The Story of God'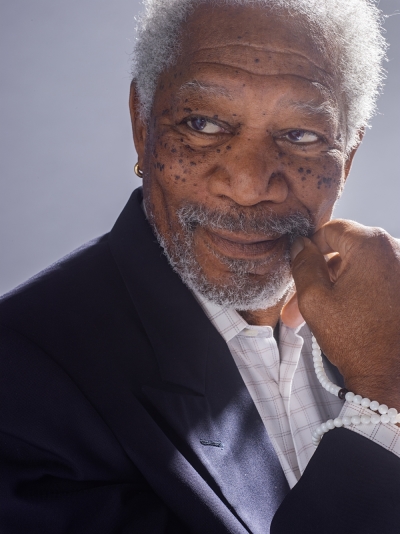 On National Geographic's last episode of "The Story of God" with Morgan Freeman, the Hollywood actor saves the best for last with his sentimental endeavor to discover the prospect of miracles.
Freeman kicks off the final installment of "The Story of God," titled "Miracles," just as he began every episode, by sharing from his own experience. The Mississippi native speaks of a time during his teenage years when he found himself in the hospital with pneumonia and suffered a hemorrhage because of overexertion. His recovery is his own personal experience with miracles, and he says many people told him that it was God who saved him.
"Believers say that miracles are proof of the divine," Freeman says, as his journey begins.
In "Miracles" viewers learn about the remarkable story of Alcides Moreno, a man who fell 47 stories, 500 feet from a New York skyscraper and survived. Even though he underwent several surgeries and spent three weeks in a coma, his recovery is by far the most compelling story shared in the docu-series' finale.
With his survival declared a miracle, the former window washer revealed that he had a hard time accepting it because his younger brother died during the fall. He does, however, believe God gave him a second chance and said he is seeking God for direction on what he's meant to do in this world.
"For Christians, miracles are proof that life is not random, they believe God intervenes in the world for a reason," Freeman explains.
Along his journey to find answers about the power of miracles, the Academy Award winner travels to cities throughout India, Italy, Egypt, the Middle East and the United States.
In this last episode viewers also see Freeman in Jerusalem where he joins a Passover celebration with the first Israeli born female rabbi, Maya Leibovich. There he hopes to uncover the truth about divine intervention. While celebrating Passover with Leibovich, Freeman learns of the reason for Passover explained in Exodus 12.
For the Jews, Passover is a very significant observation in honor of the miraculous things that were done for them. The angel of death passing over and the splitting of the sea saved the Jewish people and helped them escape slavery in Egypt during the month of Nissan, which comes from the word Nissi, which means miracles.
Rabbi Leibovich tells Freeman that "the Bible" is not a book of history" but instead "a book of ideas."
The actor next heads to the Vatican where he meets with a monsignor to find out about the process of sainthood. As he learns of the practice he is told that it is impossible to understand Jesus if you do not believe in miracles.
As the episode progresses, Freeman questions whether the divine hand of God exist or if things just happen by chance. He testifies that while a young poor boy he believed that he could become a successful actor and he did. The 72-year-old wonders what was behind the turning point of his life in 1989, when his dreams became reality and when he was featured in the films "Lean on Me," "Driving Miss Daisy," and "Glory."
A psychology professor maintains that random chance is often mistaken for miracles, claiming that probability has to play a course whether there is a divine miracle or not.
In his quest to find answers, Freeman explores Chinese Darwinism, which has its own astrology map that determines fate. He was enamored with their belief in feng shui, which claims that everything is connected. He hypothesized that, "The human mind could have a hidden power to unleash a miracle."
On his next stop in Cairo, Freeman discovers that in Islam, healing and medicine go hand in hand with the will of God. "The Story of God" then segways to physician and pastor Tom Renfro, a well-respected physician from Norton, Virginia who was diagnosed with lymphoma. He suffered multiple organ failure that was supposed to take his life within months, but did not.
Visually being walked through Renfro's battle is powerful and he credits his faith for his survival. Renfro is heard talking about the power of prayer and the support he received from his church community. His obedience to the Lord to undergo chemotherapy is what he says made the tumors all over his body disappear.
"I should have died multiple times during this.. But I had faith," Renfro declares. "I believe though that God intervened and healed me, here we are 18 years laters. To me that is a miracle, a miracle that I'm here."
Freeman follows the inspiring story by saying, "It strikes me that most of what we call miraculous starts in the mind. We close our eyes and pray. I think that's because we try to focus the mind to transcend the distractions of everyday life, to set our minds to achieve what at first we might fear as impossible."
The last stop in "Miracles," is India where Freeman delves further into the power of the mind by talking to a Buddhist. The "Bruce Almighty" star realizes the irony that Buddha, who wanted all people to tap into their inner power, is now himself being worshipped as a divine being.
"I used to struggle to make sense of miracle stories. How oceans could be parted, how it was possible to walk on water, but I think I was missing the point. To believe in miracles is to believe there is more to life than meets the eye, to accept there could be something that connects us, that unites us," Freeman concluded. "I believe we should believe in miracles because miracles however you define them, give us hope. They drive us to create reality out of possibly."
For more information about "The Story of God," visit www.natgeotv.com. The six-part mini-series ends its run on National Geographic Channel at 9 p.m. ET this Sunday.