Actress Francia Raisa Thanks God for Trusting Her With Selena Gomez's Life After Kidney Transplant
Actress Francia Raisa Thanks God for Trusting Her With Selena Gomez's Life After Kidney Transplant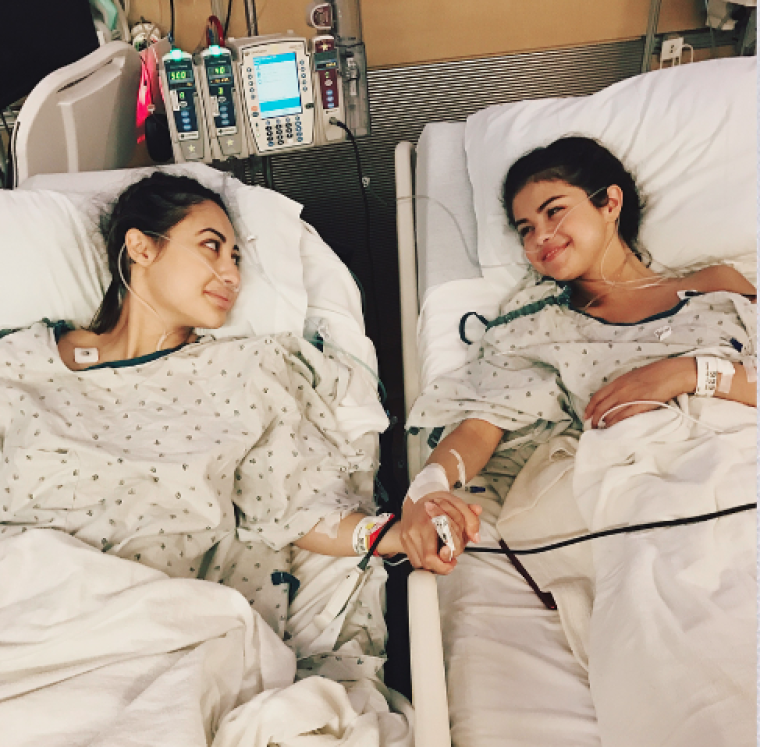 Mega-superstar Selena Gomez revealed on Thursday that she's been recovering from a kidney transplant and shared pictures of herself with actress Francia Raisa who donated the organ.
Gomez, 25, first announced that she has lupus during an interview with Billboard in October 2015. At the time the actress and singer disclosed that she underwent chemotherapy. However, Gomez still needed to have a kidney transplant to help her battle the autoimmune disease.
The Disney star said in an Instagram post that she had undergone the operation and shared photos of herself alongside Raisa, who donated her kidney.
"I'm very aware some of my fans had noticed I was laying low for part of the summer and questioning why I wasn't promoting my new music, which I was extremely proud of," Gomez wrote in the post. "So I found out I needed to get a kidney transplant due to my lupus and was recovering. It was what I needed to do for my overall health."
Gomez added that "there aren't words to describe" how she feels toward Raisa, who's best known for her role on the ABC family series, "The Secret Life of the American Teenager."
"She gave me the ultimate gift and sacrifice by donating her kidney to me. I am incredibly blessed. I love you so much sis," Gomez gushed.
Raisa likewise accredited God and shared her love for Gomez.
"I am beyond grateful that God would trust me with something that not only saved a life, but changed mine in the process," Raisa wrote on Instagram about the experience. "This was part of our story, and we will share it soon, but what is important now is that this is not the only story."
The 29-year-old actress also included information on the Lupus Research Alliance.
"Love you sis, so glad we're on this journey together," Raisa concluded.
People magazine followed up on Gomez's condition and reported that the "Bad Liar" singer is "feeling much better" after the operation.
"She was feeling really lethargic and worn out before the surgery," a source close to Gomez told People. "The surgery was a couple months ago so she's been recovering and is in a much healthier place now. Her close group of girlfriends have all been there for her."
According to an interview with Latina magazine in 2013, Raisa said the pair met in 2007 when they were part of a group of Disney and ABC Family stars picked to visit the Children's Hospital in Los Angeles.
"Selena and I were in the same group and we just clicked," she shared.