After Viral Video, Tarrant Police Officer Delivers 2 Truckloads of Groceries to Grandmother He Caught Stealing Eggs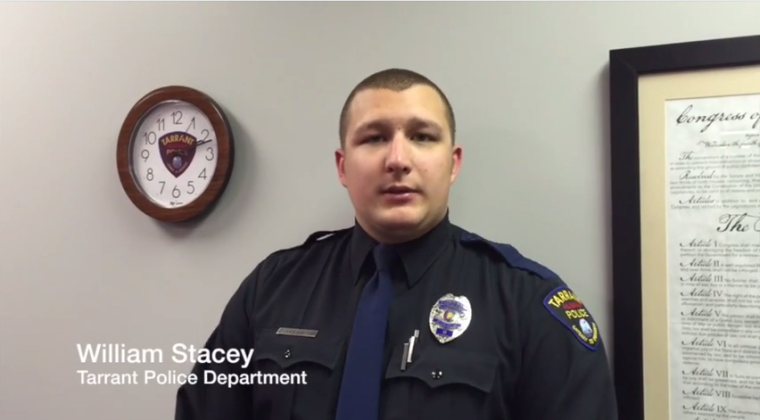 A Tarrant, Alabama Police officer who became an Internet sensation after he decided not to arrest a grandmother he caught shoplifting eggs but to buy her some eggs instead, went a step further this week when he delivered two truckloads of food to her home to help her children.
"The last time I saw my house this full, I was 12-years-old and staying with my grandmother," 47-year-old mother and grandmother Helen Johnson told al.com Wednesday after the food was delivered to her home. "I've been crying all day."
Last Saturday, Officer William Stacy of the Tarrant Police Department was called to investigate the Johnson after she attempted to steal a dozen eggs at the Dollar General Store on Pinson Valley Parkway. After finding out that the desperate woman was simply trying to feed her children, however, Stacy bought a dozen eggs for the mother after getting her to promise not to shoplift again.
A passerby who watched the heartwarming moment unfold captured it on video and posted it to Facebook and it went viral. Now according to Tarrant Police Chief Dennis Reno, a lot of help has been pouring in for the Johnson family.
On Wednesday, when Stacy and Officer Jay Jenkins delivered two loads of food to Johnson's apartment, she couldn't stop crying, and hugging Stacy.
"I just busted out and started hollering," said Johnson. "I was yelling so loud. I would have been a good cheerleader."
The now viral moment between Officer Stacy and Johnson has been doing a very good job in countering the current narrative of tensions between law enforcement and communities of color across the nation.
"It's growing and growing and growing,'' said Reno of the positive public reactions to Officer Stacy's gesture. "A guy called me from New York and just broke down. He said for two months he's been angry with police, and he said this has totally changed his mind."
Johnson's two daughters, a niece and two grandchildren, ages 1 and 3, reportedly live with her in her home and they had been having some financial trouble. Last Saturday, Johnson went to the Dollar General with $1.25 to buy a carton of eggs but realized she was short by 50 cents plus tax according to al.com. In desperation, she took five eggs from the carton and stuffed them in her pocket but the eggs broke.
"Of course when I put them in my jacket pocket they broke," said Johnson. "I'm not a good thief at all."
She was quickly stopped by a store worker after that who then called the police. When Stacy arrived, he said he had already spoken with officials at the store who decided not to press charges. Johnson however didn't know this.
"She started crying, she got very emotional and was very apologetic," said Officer Stacy. "She tried to give me the money she had on her, $1.25."
Johnson said she was waiting for Stacy to come take her away in handcuffs and could not believe it when he went into the store and returned with a carton of eggs.
"I was like, 'Oh my God, thank you Jesus for this man,'" she said. "He is my hero."
Stacy said he was moved with compassion because he remembered when his own family went through lean times as a child.
"The story she told me Saturday matched up with what I had seen when I was there," he said. "I felt like it was the right thing to do. I didn't want to pass judgment on her."