AIDS Infected Pastor, Juan McFarland, Who Committed Adultery in Church With Members Refuses to Step Down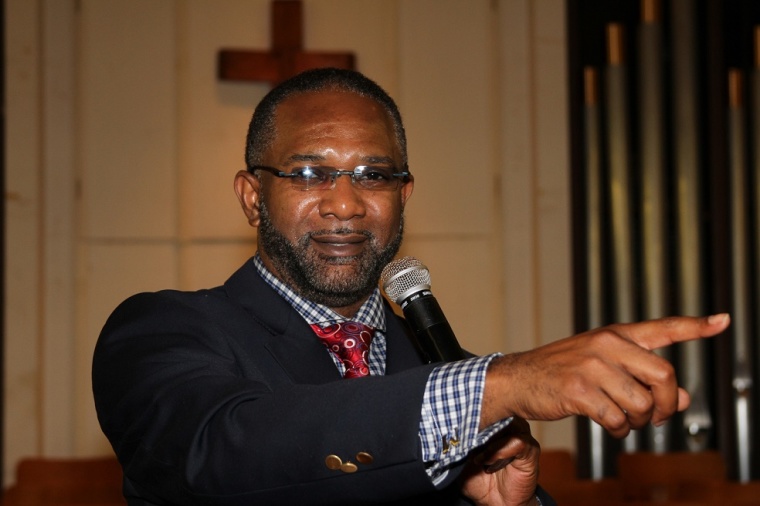 Despite being officially ousted by his church, Juan Demetrius McFarland, a defiant Montgomery, Alabama, pastor who made national news last week when it was revealed that he knowingly had sex with multiple female members of his congregation even though he has full blown AIDS, is refusing to give up the pulpit and conducted worship service on Sunday.
A USA Today report said McFarland returned to the pulpit at Shiloh Missionary Baptist church appearing "full of the spirit" and supported by about 50 members of the congregation he pas pastored for 24 years preaching a message of healing from the book of Matthew in the Bible.
In Matthew, Pastor McFarland concentrated on the story of a faithful centurion who called upon Jesus to heal his servant, who was dying of leprosy.
"... his servant was healed that same hour," said McFarland. "Jesus did it suddenly."
"Preach it, reverend!" whooped a member to the pronouncement.
"Sometimes the worst times in our lives is when we have a midnight situation, and we are in a midnight situation," McFarland told congregants. "When you pray, you've got to forgive. You can't go down on your knees hating somebody, or wishing something bad will happen to somebody."
He then went to the book of Luke where he referenced that story of the woman with the issue of blood who suffered for years until she pushed her way through a crowd to touch the hem of Jesus' garment and found healing.
"Press your way through the crowd. Pass your way through the naysayers," said McFarland.
Church leaders voted 80-2 to remove McFarland as their leader after he confessed to engaging in adultery with several female members of his congregation in the church despite knowing he was HIV positive since 2003 and was diagnosed with full-blown AIDS in 2008. He also said he abused the finances of the church.
"He concealed from the church that he had knowingly engaged in adultery in the church building with female members of Shiloh Missionary Baptist Church while knowingly having AIDS," said church deacon Nathan Williams Jr.
Deacon Williams, who said he's a 70-year member of the church, noted that the confession is the biggest scandal the church has ever faced.
"He confessed to the entire membership and then to the city of Montgomery, because as soon as he got done confessing, it went all over Montgomery anyway," said Williams. "So it's nothing we [are] making up. It's coming out of his mouth."
On Sunday, according to USA Today, Annette Russell, the church's missionary president, said chaos had enveloped the church since McFarland's confession made it to the media and lamented that it had reached that far. She also appeared to have forgiven McFarland.
"I have been praying for a calmness, that these people can come to their senses so we can praise the Lord," said Russell in tears. "I prayed to God, 'Send us some faithful folks,' and he did it today.
"He's a man of God, but he's a human being," she noted of McFarland. "It's not that we condone what our pastor has done, but we need to have compassion. We're not supposed to assassinate our brothers and sisters. We're not supposed to judge. We do our business at Shiloh. It didn't have to be expressed in the papers or on television."
Since he was voted out of the pulpit, however, Pastor McFarland has kept control over the church building and its finances.
Julian McPhillips, one of the lawyers representing the church's leadership said a lawsuit was expected to be filed against McFarland on Monday.
"Not only did they authorize us to pursue this in court, but they paid us to do so," said McPhillips.
"He is a bit of a strong-willed guy," McPhillips said of McFarland. "He's refusing to face the reality of what the congregation has voted."
WATCH Pastor Juan Demetrius MacFarland Preach at his church pre-confession below.