Alicia Keys' AIDS Documentary to Help Create Awareness
Alicia Keys fans have been anxiously awaiting a new album, and while she hints that one is in the works, her recent priorities have centered on motherhood and her dedicated work as an AIDS activist.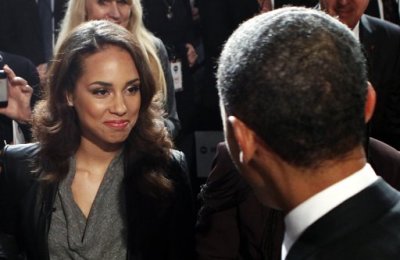 The 30-year-old is the founder of the Keep A Child Alive foundation, and recently took a break from music to focus on becoming a mother. Keys is also working on other projects, which include her latest documentary that features her AIDS work in Africa.
Keys, whose real name is Alicia Augello Cook, established her foundation in order to provide treatment and support to those living with HIV and AIDS in Africa – which has some of the world's highest rates of infection.
Her documentary "Keep A Child Alive - With Alicia Keys" premiered yesterday, in recognition of World Aids Day.
It follows her journey to South Africa along with five young Americans who won the opportunity to accompany the singer to help create awareness and fight AIDS.
Thursday the singer was one of many A-listers present at Obama's World Aids Day event in Washington, but it was her recent tweets that left her fans filled with excitement.
She recently posted a picture of herself playing a piano in what many assumed to be her studio with the message, "The process.... Are u ready for the next installment? ;-)."
While her latest 2009 album "Element Of Freedom" was highly successful, selling more than 400,000 copies within the first week of its release, Keys took a break musically after marrying famed producer Swizz Beatz and giving birth to their first child shortly after.
In an interview with Glamour magazine, Keys spoke about her one-year-old son Egypt Daoud Dean saying, "It's a beautiful blessing that I get to help raise a man. And I want to show him as much as possible."
Key received some media backlash over her alleged affair with Beatz, after his former wife accused the pair of becoming romantically involved while she and Beatz were still legally married.
Keys has never publicly addressed the claims, and continues to gain recognition for her frequent humanitarian work, even winning BET's Humanitarian award in 2009.
Keys however, has yet to confirm she is releasing a new album.
Here is a video covering World Aids Day 2011:
World Aids Day 2011