'American Sniper' Trial: Chris Kyle's Widow Breaks Down as Defense Attorney's Argue Accused Killer Was Suffering Psychosis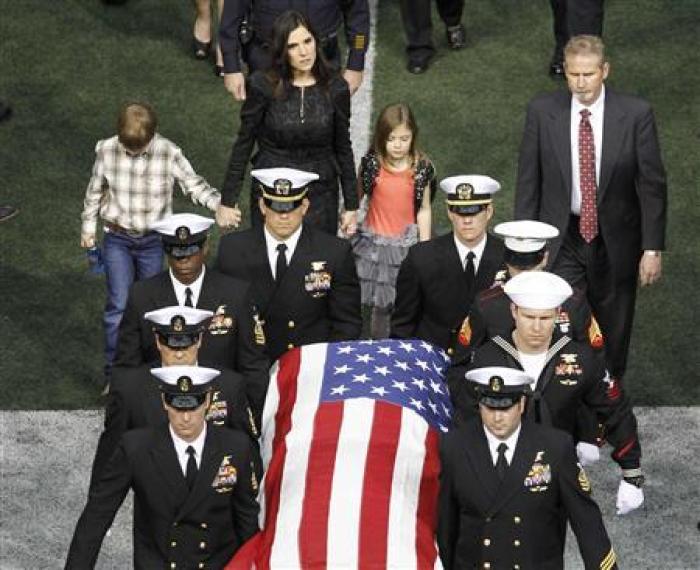 Real life "American Sniper" widow Taya Kyle broke down in tears while testifying about her late husband, Chris Kyle, in a Texas court on Wednesday during the trial of his accused killer, Eddie Ray Routh.
The 40-year-old mother of two took to the stand for an hour and 10 minutes dressed in a fitted brown dress and matching shawl with a diamond crucifix around her neck. Routh, who sat across from the emotional widow, is accused of fatally shooting Chris and his friend Chad Littlefield at a gun range on Feb. 2, 2013 and Taya answered questions about that fateful day, reported ABC News.
"We said we loved each other and gave each other a hug and kissed," Taya said recalling the moment her husband unknowingly said goodbye for the last time.
Chris, a former Navy SEAL, agreed to meet with Routh, a former marine, for the first time on the day he was killed following pleas from his mother. He was trying to help Routh overcome PTSD.
In court, Taya recalled having a "bad feeling" on that fateful morning during a phone call with Chris, who is widely considered to be the most lethal sniper in U.S. military history for having at least 160 confirmed kills.
She told jurors that she sensed that "something was up, but I didn't know exactly what." Moments after the couple ended the call, Routh fatally shot Chris five times in the back and once in the head and also shot Littlefield four times in the back, once in the hand, once in the face and once on the top of his head.
The 27-year-old former Marine is pleading "not guilty" to both shooting deaths by reason of insanity but prosecutors have dismissed this as a baseless defense.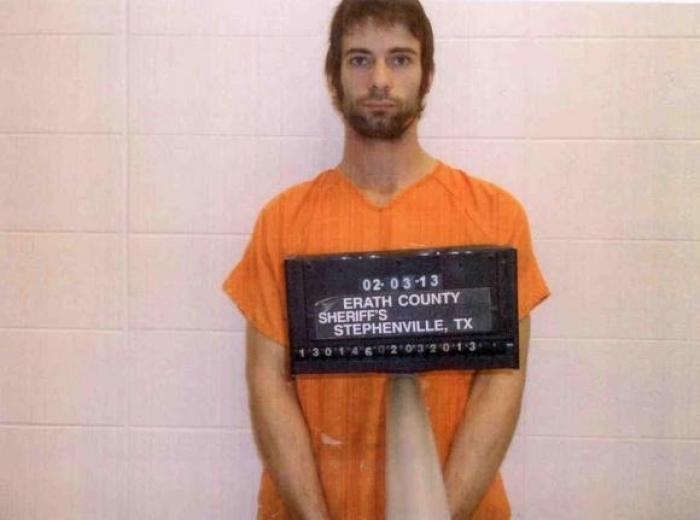 During opening statements, a prosecutor told jurors that Routh "may have been mentally ill - but he still knew right from wrong" when he killed both men.
"The evidence will show that mental illnesses, even the ones that this defense may or may not have, don't deprive people from the ability to be good citizens to know right from wrong, to obey the law," said Erath County District Attorney Alan Nash "And at the very least not murder people."
Nash also told jurors that Routh was high on drugs and alcohol at the time of the killings and that he bragged about the murder to his sister.
In contrast, attorneys for Routh argued that the "troubled" marine was experiencing a psychosis allegedly brought on by PTSD and thus he could not be held accountable for the murders.
"When he took their lives, he was in the grip of a psychosis, a psychosis so severe that he did not know what he was doing was wrong," defense attorney, Tim Moore said adding that Routh thought "that he had to take their lives because, in his psychosis, he thought they were going to take his."
Chris, who was 38 when he was killed, served four tours in Iraq before he left the military in 2009 to focus on his family. He later became an advocate for veterans' mental health and he often spent time with wounded war vets on the shooting range.
The story of Chris was captured in his 2012 best-selling autobiography American Sniper, which set the premise for Hollywood filmmaker Clint Eastwood's blockbuster film of the same name. It recently scored six Academy award nods and set a box office record by pulling in an estimated $105 million during its opening weekend.
Prosecutors said previously they will not seek the death penalty against Routh and if convicted he could face up to life behind bars.
Taya recently recalled the heartbreaking moment she and her two children learned that her late husband had been killed. She learned about his death before the kids and later sat on their front lawn with each of them on one knee to break the news.
"The tears just poured out. We just sat out there in the grass for a while and I just held them," Taya told People.com, adding that the children "just asked all the questions I think we all have: 'Why did this happen? Who did it and why? Why can't they fix Daddy's heart?' I try not to be angry too much, but the kids are the ones that got cheated the most."
Taya is now an advocate for women and families who have lost loved ones serving in the war.