'American Sniper' Widow Introduces Garth Brooks at ACM Awards; Crowd Bursts Into Frenzy During His Performance Dedicated to Soldiers
'American Sniper' Widow Introduces Garth Brooks at ACM Awards; Crowd Bursts Into Frenzy During His Performance Dedicated to Soldiers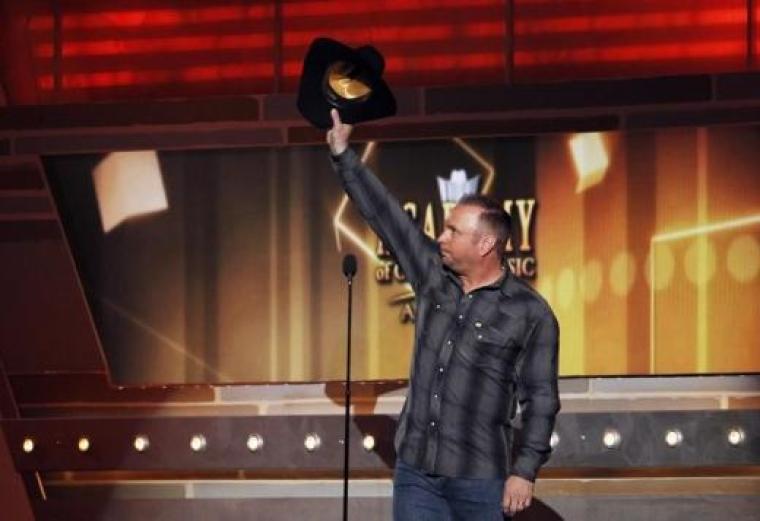 Garth Brooks dedicated an emotional performance to military service members after being introduced by the "American Sniper" widow at the Academy of Country Music Awards on Sunday night.
Live from Arlington, Texas, the annual awards show honored the biggest and best names in today's country music. A legend in the genre, Brooks swept the audience with a rendition of "All-American Kid" during the show. Adding to the poignancy of the performance, the singer was introduced by Taya Kyle, the widow of the late Chris Kyle who inspired Clint Eastwood's recent hit film "American Sniper."
Before Brooks took the stage, Kyle described the "legendary" singer as "a man who is a patriot and who continues to touch us through his music." Once the performance was underway, the crowd exploded into a frenzy while Brooks sang lyrics including, "Got his picture in the paper and the headline read 'Welcome back all-American kid,' yeah, this is the song for those who never did."
"All-American Kid" is found on Brooks' newest album "Man Against Machine." The song was written by Craig Campbell and dedicated to servicemen and women serving all over the world. In addition to the performance, Brooks received the ACM Awards Milestone Award commemorating his decades-long career in country music.
"I'd like to take this second to thank all our men and women in the armed forces that are here and around the world protecting our freedom," Brooks said while accepting the Milestone Award directly following his performance.
The singer also dedicated the award to his home state of Oklahoma, which is remembering the 20th anniversary of the Oklahoma City bombing.
Meanwhile, Brooks is currently on his World Tour with stops all over the globe this year. Nevertheless, the singer joined country music stars such as Miranda Lambert, Jason Aldean, Blake Shelton and Luke Bryan for Sunday's awards show.
Watch a video of Brooks' ACM Awards performance here.