Americans Are Hostages to 'Tyranny of Political Correctness,' Says Redskins Quarterback RGIII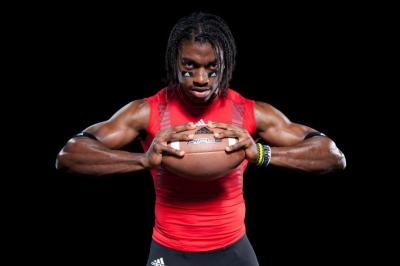 As the controversy continues to brew over the "racist" and "derogatory" nature of the naming of the NFL's Washington Redskins, the team's quarterback, Robert Griffin III, complained on Tuesday that America is being held hostage by political correctness.
"In a land of freedom we are held hostage by the tyranny of political correctness," tweeted Griffin on Tuesday.
He then followed up with another tweet that offered a definition of tyranny. "Tyranny – 'a condition imposed by some outside agency or force
On Tuesday, Washington D.C. Councilmember David Grosso announced that he planned to introduce a resolution calling on the Washington Redskins to rename the team, according to a report in the Washington Post. Grosso who said most of his colleagues in the Council have agreed to co-sponsor the nonbinding resolution, called the name "racist and derogatory," and said, "it's time to make a change."
In recent months, a group of Native Americans began a court battle seeking to prevent the team from federal trademark protection. This move is effectively forcing the team to change its name. Grosso has asked the team to consider "Redtails" as a new name. The reference he explained would honor the Tuskegee Airmen. The team would be allowed to keep its current fight song and color scheme with minor adjustments.
A new Associated Press-GfK poll on Thursday, however, highlighted that "Redskins" still enjoyed broad support nationally.
According to the poll, almost four in five Americans disagree with changing the team's name. Some 11 percent feel the name should be changed while two percent of the people polled did not provide a response.
The poll, which was conducted from April 11-15, included interviews with 1,004 adults via land lines and cellphones. It also has a margin of sampling error of plus or minus 3.9 percentage points.
Sarah Lee, a 36-year-old stay-at-home mom from Osceola, Ind., was among respondents who didn't see the name as offensive and didn't think the team's name should be changed.
"That's who they've been forever. That's who they're known as," she said in the report. "I think we as a people make race out to be a bigger issue than it is."
Others however didn't see it that way and thought it was best to remove the offensive portion of the name.
"With everything that Native Americans have gone through in this country, to have a sports team named the Redskins – come on, now. It's bad," said Pamela Rogal, 56, a writer from Boston. "Much farther down the road, we're going to look back on this and say, 'Are you serious? Did they really call them the Washington Redskins?' It's a no-brainer."