America's 10 Most Bible-Minded Cities for 2015 Are All in the South and Birmingham, Alabama Tops Them All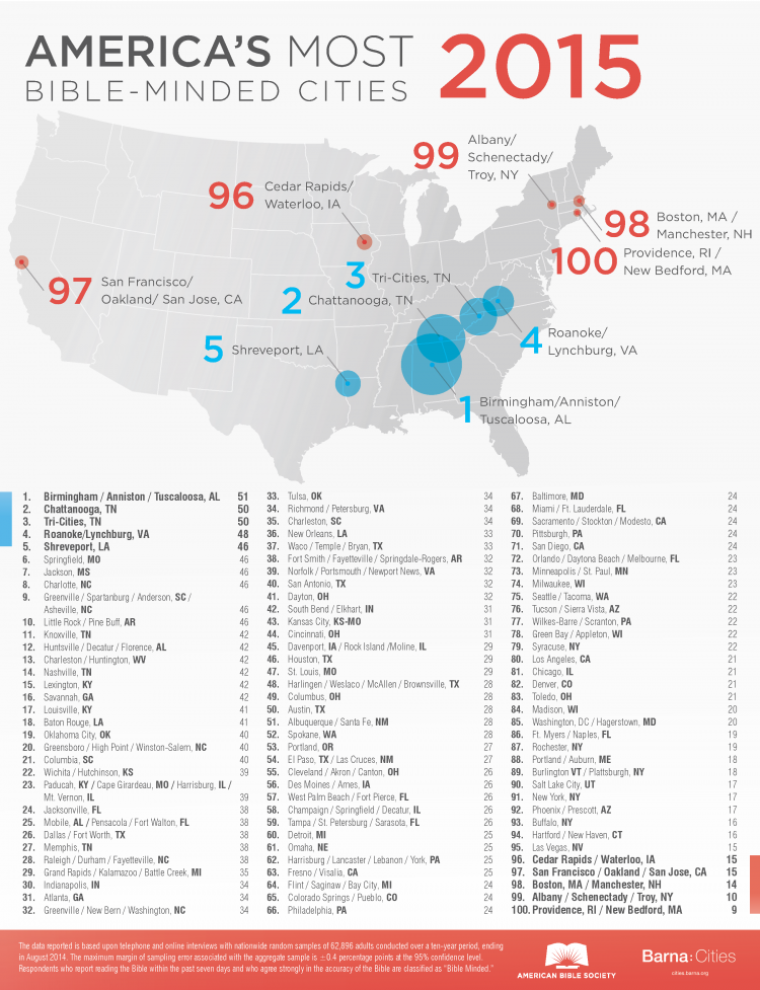 America's 10 most Bible-minded cities are all still located in the "Bible Belt" of the South and Birmingham, Alabama sits at the top of that pack. The state of Alabama also became the state with the most Bible-minded cities in 2015, according to a Barna survey commissioned by the American Bible Society.
The study is based on 42,855 interviews conducted nationwide and the analysis of Bible trends. Bible-minded individuals are those persons who report reading the Bible in a typical week and who strongly assert the Bible is accurate in the principles it teaches.
According to the report, at least 46 percent of the population in the top-ten most Bible-minded cities met this criteria.
The top ten Bible-minded cities in America are:
1 Birmingham/Anniston/Tuscaloosa, Alabama (51%)
2. Chattanooga, Tennessee (50%)
3. Tri-Cities, Tennessee (50%)
4. Roanoke/Lynchburg, Virginia (48%)
5. Shreveport, Louisiana (46%)
6. Springfield, Missouri (46%)
7. Jackson, Mississippi (46%)
8. Charlotte, North Carolina (46%)
9. Greenville/Spartanburg/Anderson, South Carolina
Ashville, North Carolina (46%)
10. Little Rock/Pine Buff, Arkansas (46%)
The survey notes that the bottom 10 least Bible-minded cities are mostly located in the Northeast and the West. New York City entered this group for the first time to rank at 91 on the 2015 list with just 17 percent of the population qualifying as Bible-minded. Providence, Rhode Island is ranked as the least Bible-minded city for 2015.
For a complete list of the Bible-minded city rankings, click here.