Android 4.1, JellyBean Update List for Samsung Devices Released
The Android 4.1, JellyBean update will be coming to many Samsung Galaxy devices in the near future and the company released a list this week of which tablets and smartphones will receive it.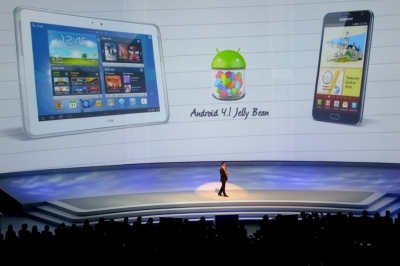 This list includes the Samsung Galaxy S2, Galaxy S3, Galaxy Note, Galaxy S Advance, Galaxy Chat, Galaxy Ace 2, Galaxy Beam, Galaxy Ace Plus, Galaxy Mini 2, Galaxy S Duos, Galaxy Tab 7.0 Plus, Galaxy Tab 2.7.0, Galaxy Tab 2 10.1, and the Galaxy note 10.1.
The Samsung Galaxy S3 Android 4.1, JellyBean update will hit the U.K. this month, according to a statement made by Samsung on the company's U.K. Facebook.
When told by a Facebook user named Lewis to "hurry up and release the Jelly Bean update for the UK International S3," Samsung had this to say:
"Hi Lewis, we can confirm that the Android 4.1 (Jelly Bean) operating system will be available on the Galaxy S3 this month. Details regarding the availability across network channels will be announced in due course," wrote Ravi of Samsung.
The carrier-locked variants in the U.K. will receive the update later on down the line.
The rollout of JellyBean to the Galaxy S3 in the U.K. is part of Samsung's second wave of them that started this week.
The company just released the software upgrade in Sweden over KIES with a new official build called XXDLI.
It is scheduled to hit more countries in the near future.
JellyBean is also expected to roll out for the Galaxy S2 before the beginning of 2013.
The JellyBean update brings new features to the Galaxy S3, including a smoother UI, Google Now, Offline voice-typing support, expandable notifications, better settings organizations and much more.
Android 4.1, JellyBean Runs on T-Mobile G1