Angel or Demon? Social Media Users Debate Winged Figure in Arizona Photo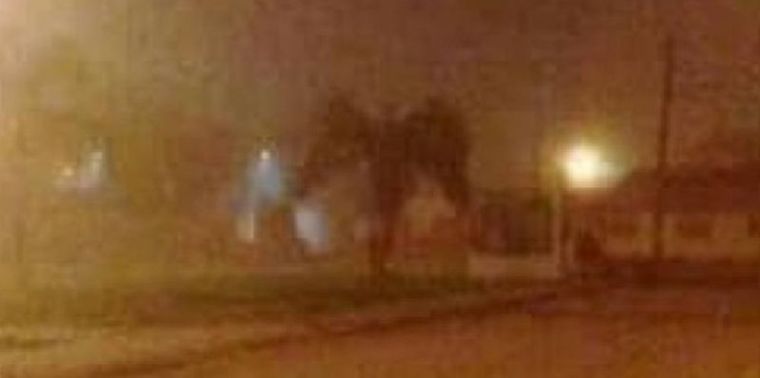 A picture uploaded to Facebook by an Arizona man captured a mysterious winged figure, which some are debating could be a demon or an angel while others are dismissing it as nothing but an optical illusion or a photoshopped image.
The debate on social media began after Richard Christianson, a resident of Phoenix, Arizona, according to his Facebook account, posted the picture on Jan. 1.
The photo, which shows a mystical "creature" shrouded in a dusty red haze, had been viewed almost 100,000 times by Friday, according to Yahoo7News.
"What the hell do you see in this picture for reals ??? Anybody," Christianson, who posts mostly pictures of cats and dogs, captioned the photo. The post was initially public, but after it went viral, Christianson apparently removed it from his timeline.
Some commented on the post, saying it's a "dark angel" or a "fallen angel" or a "mothman." Some said it's an "angel." Others called it a "prank" or a "palm tree."
"But with the EVIL days we live in now, what if it is a demon wreaking evil deeds all around us? Whether you want to believe it or not, these are the END TIMES," wrote a social media user.
"Demon, because there is no way that is a tree and even so in the Bible Genesis Angels cannot reveal themselves but demons can do it because they are falling and thrown out they take form so pretty much I think we saw a demon and pretty much so I'm scared that Judgment Day will soon come to all of us," read another comment.
The picture was apparently taken in an abandoned street at night in Tucson.
"This was a couple of hours from his house. You want him to drive all the way back to Tucson to go take a pic in day light?" asked one Facebook user, claiming, "He (Christianson) said it went up and disappeared."
Another comment read, "Do any of you know what an angel angel looks like? How would you know what a 'demon angel' would look like? Angels can take on any form?"