Anglican Archbishop Welby Talks Coping With Death of Young Daughter; Says He Doesn't Attempt to Answer Why God Allows Suffering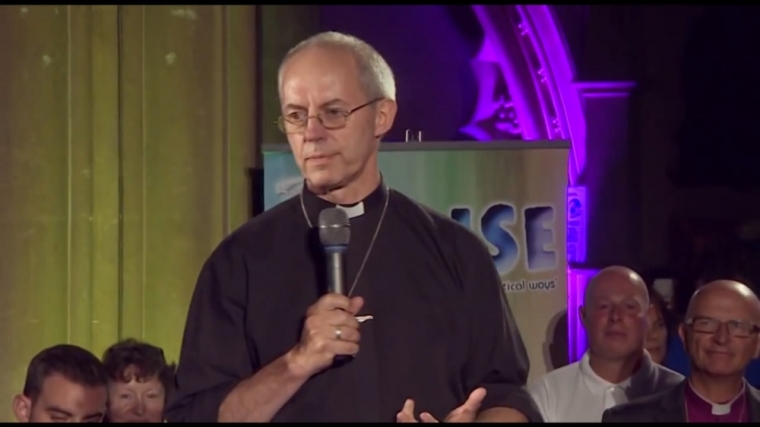 Church of England leader the Most Rev Justin Welby has opened up in an interview about the death of his first born child, 7-month-old daughter Johanna, who died in a tragic car accident. Welby said that he never attempts to answer why God allows suffering in the world, other than to point out that Jesus Christ was also young and unfairly killed.
The Archbishop of Canterbury told BBC Radio 4 that Johanna's death in 1983 is a "constant reminder of the uncertainty of life," and recalled the day of the tragedy, when his wife Caroline was being driven through Paris in the passenger seat, while their daughter was in a carrycot in the back.
"I was finishing off some work in Paris and Caroline set off with a friend, someone else was driving and they had a car crash," he said.
"We went up and found Johanna was in hospital and she died five days later.
"It's just the constant reminder of the uncertainty in life. The only certainty in this life is Christ – everything else is contention."
Welby admitted that for many people, such a tragedy leads them away from faith in God – while for others, it is the moment that they find God.
As to how he deals with anniversaries of his daughter's death, he said:
"The thing is to celebrate the person, to remember them with love, to remember what they gave and what you gave them," Welby added.
"In other words, attack the day so it does not attack you."
Reflecting also on other suffering around the world, such as the ongoing Ebola outbreak that has killed thousands across West Africa, the Anglican leader said that he does not attempt to explain why God allows suffering.
"I never try and give answers except to point to the Christ who died on the cross as a young man, unjustly, unfairly," Welby said.
In his interview, the Archbishop discussed several other topics, such the importance of Christians welcoming others instead of adopting a "holier than thou" attitude. He also argued that the Church must accept religion's troubled history of causing wars and acts of inhumanity.
Welby has opened up about his personal relationship with God in other interviews, and back in September admitted that he sometimes has doubts about God's existence. He argued that doubt is sometimes expressed in passages of the Bible, however, such as in Psalm 88.
"The other day I was praying over something as I was running and I ended up saying to God 'Look this is all very well but isn't it about time you did something – if you're there' – which is probably not what the Archbishop of Canterbury should say," Welby said.
He added: "It is not about feelings, it is about the fact that God is faithful and the extraordinary thing about being a Christian is that God is faithful when we are not."