Angus T. Jones of 'Two and a Half Men' Finds Christ, Slams Show (VIDEO)
'Stop Watching 'Two and a Half Men,'' Says Actor
Angus T. Jones of "Two and Half Men" fame converted to Christianity and denounced and criticized his past life and activities, including his role on the famous TV show. Throughout his two videotaped testimonies in October, he chronicled his journey to Christ and decried the worldly influence of entertainment.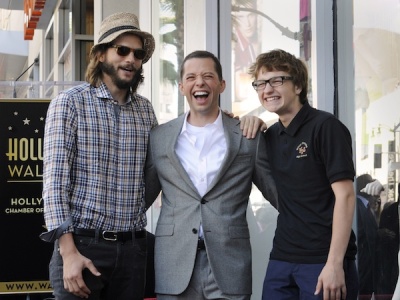 Jones, born in Austin Texas, began the 30-minute testimony— two 15-minute videos with a man from the religious Forerunner Chronicles website— with his ascent from a 4-and-a-half-year-old child actor to stardom. At the age of 9, he was offered a job on "Two and a Half Men," which inducted him into the world of showbiz, and by high school, he was using drugs like marijuana and acid.
"I was living for myself" and "being a stereotypical celebrity," the 19-year-old actor said.
However, an incident in December of 2011 would change his life. During a conversation with a friend, he realized that "God is the reason for all this."
"I feel like I just accepted God in my life," said Jones. After searching for churches, he settled on a Seventh Day Adventist congregation, but conflicts with his lifestyle soon arose. His portrayal of Jake Harper on "Two and a Half Men," along with the show's less-than-Christian content, took a toll on him spiritually. He even advised people to stop watching the show.
"If you watch 'Two and a Half Men,' please stop watching 'Two and a Half Men,'" he said around the 7:45 mark of the second half of the testimony. "I'm on 'Two and a Half Men,' and I don't want to be on it. Please stop watching it, please stop filling your head with filth."
"There's no playing around when it comes to eternity," he later added.
While many publications rushed to compare his testimony with the meltdown of former cast member Charlie Sheen in January 2011, its nature is decidedly different. While Sheen's anti-Semitic insults were aimed at show creator Chuck Lorre, Jones' message is about the danger of compromising the gospel and the values it teaches.
"The name of the game right now is compromise. … According to the Bible, when that happens, we're no longer standing for anything. We're no longer on the side of the truth. A little leaven leaveneth the whole lump," Jones said, quoting Galatians 5:9, which is a warning against false teachings.
"You cannot be a true God-fearing person and be on a television show like that. I know I can't. … You go all or nothing," he said.
Despite his passion, Jones has not publicly quit the show. It is unknown if his 2010 contract— $7.9 million for two seasons plus a $500,000 signing bonus— has contributed to his continued place on "Men." He has stated previously that he is uncomfortable with the adult situations his character now deals with on the show, however.
Warner Bros., who produces the highly popular sitcom, has not commented on Jones' comments.