Ann Curry's Replacement Hoda Kotb? (VIDEO)
Ann Curry's replacement as news anchor on the Today Show could be announced as soon as next week with the likely candidate to be Today's own Hoda Kotb.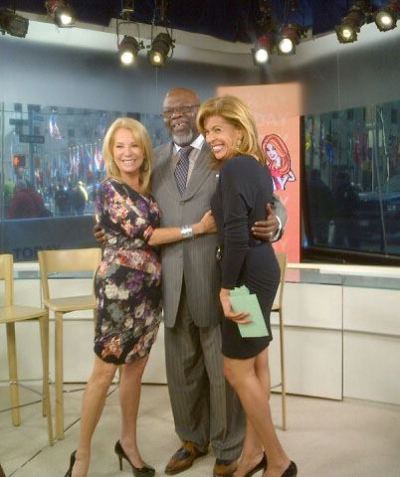 Ann Curry has become a pawn in the ratings war that is waging between NBC's "Today Show" and ABC's "Good Morning America." While Curry, who has been with NBC since 1997, was only announced as new anchor of the "Today Show" last year, talks have already begun over replacing her.
'I felt like Cinderella, I did," Curry said last year after discovering that she had become an anchor for the network. "I felt like all these years cleaning the floor, I just felt suddenly I was getting to be in the bright lights and the pretty dress and I was sitting next to the prince."
Unfortunately Curry's fairytale won't be having a happy ending. While rumors have spread that the anchor is likely to lose her position, other talks have surfaced over who will replace Curry. First in line to take the position may be none other than Hoda Kotb herself, who has working with NBC since 1998 and currently hosts the last hour on the "Today Show" with Kathy Lee.
"Hoda has a hard news background but is extremely comfortable discussing pop culture issues," an NBC insider told Radaronline.com. "She just has a warmth that viewers find comforting. She was very public with her breast cancer battle, and allowed cameras to follow her during her cancer treatments on Today."
"Hoda is a team player, and is so well liked by everyone at the show, most importantly, Matt Lauer," the source added.
Savannah Guthrie, who co-hosts the show's third hour, has also been suggested as a possible replacement in addition to Natalie Morales.
Curry has said in the past that she wouldn't leave the network over poor positioning.
"It would have been nuts abandoning the broadcast," she told the Associated Press last year, commenting on being passed over a possible promotion in 2006 when Katie Couric left the show. "It would have been abandoning our viewers. I love our viewers ... I have a real sense of service when it comes to this job, taking care of the viewer and helping them have information that I think they should know and want to know."
It has yet to be determined whether or not Curry will stay with the NBC network.