Antoinette Tuff, Toni Braxton Talk Overcoming Fears in TD Jakes' 'Faith Under Fire' (Interview)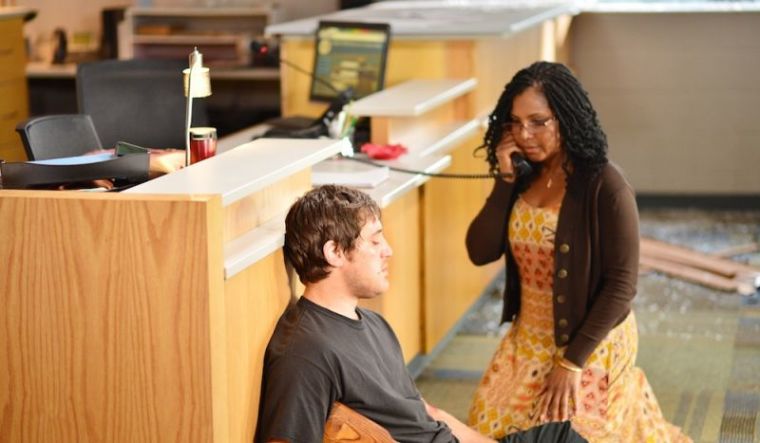 NEW YORK — Some movies were created to entertain, while others intend to inspire. With "Faith Under Fire," the Bishop T.D. Jakes production starring Toni Braxton, audiences get the best of both worlds.
The film premiering on Lifetime on Saturday is based on the true story of a Christian single mother named Antoinette Tuff whose faith helped her divert a crisis when a mentally ill man with a gun walked into a Decatur, Georgia, elementary school where she served as a bookkeeper.
Although the 20-year-old gunman named Michael Hill repeatedly told Tuff that he intended to kill everybody in the school while holding an AK-47, she continued to show him the love of God which ultimately saved hundreds of children on that fateful day in 2013.
Tuff wrote a book about the event, titled Prepared for a Purpose: An Inspiring True Story of Faith, Courage and Compassion in Crisis, which ultimately laid the groundwork for the Lifetime movie that she hopes will inspire viewers. In a phone interview with The Christian Post, Tuff said she hopes viewers will walk away from the film thinking about their own purpose in life.
"I was an ordinary person who God decided was going to be an extraordinary person that day. He chose my name and my number to be able to change the destiny of not only my life but that gunman's life too. He saved my life just like I saved his life," Tuff told CP. "No matter what, y'all have a purpose in life. One day our number is going to be called and our name. You have to ask yourself, 'Am I going to be ready?'"
While Tuff received a personal call from former President Barack Obama and was named a hero by multiple media outlets like CNN, she admitted to feeling the same fear that many would expect in a hostile situation. Still, her faith in God helped her overcome that fear with love to save hundreds of children.
"On the inside, I was actually screaming [and] very afraid because you have this gunman standing in front of you, letting you know that he had not taken his medicine and he was unstable in all of his ways.
"So I was terrified on the inside, but God has a way of calming you down when you don't know that He's calming you down," she revealed. "So I thought I was screaming the way I was screaming on the inside but it wasn't until afterwards that I realized when I look back at the 911 tape how calm I was."
On Aug. 20, 2013, Tuff did more than convince the gunman to surrender his AK-47 and himself to police officers, she told the troubled young man that she loved him.
"For me, I didn't see a gunman. What I saw was a young man standing in front of me going to and fro crying out for help," Tuff said. "I was hoping that I could look beyond the gun to really see the need in his heart. I didn't see all that he was actually doing, I saw what he needed to do and what he needed me to do."
Seven-time Grammy Award-winning singer Toni Braxton brings Tuff's story to the small screen by portraying her in "Faith Under Fire." While Tuff was excited that a "hometown hero" was tapped to play her in the film, Braxton was scared to take on the "meaty role."
Known for her sultry dresses and famed contralto singing voice, Braxton gained 17 pounds so that viewers could see her as something other than the entertainer they've become familiar with. The seasoned singer admitted that she was intimidated, but prepared for the role by listening to Tuff's 911 calls and watching all of her television interviews.
"I was a little scared to do it because it was a heavy role, I'm not going to lie," Braxton revealed at the New York City screening of the film. "But I talked to everyone who said, 'Toni you've got to do it. You got to be brave. If she can do it, you can do it.'"
And it was hard to say no to Bishop Jakes, who Braxton describes as being like an uncle to her.
"Coming from the Church with a religious background being a preacher's kid, I identified with it immediately. When Bishop Jakes wanted me to do the role I was flattered and excited," she told CP exclusively about the man who has counseled her family numerous times. "Bishop Jakes is like our uncle. He gets our family together when we're out of shape, he smacks us back together."
Before the film came together, Jakes also had a special relationship with Tuff who is a part of his ministry. As her pastor, Tuff said she trusted Jakes would make sure the important element of faith would be prominent in the Lifetime film.
"For me, my faith is important, so I had to make sure that I sat under somebody who I knew would come back and take the word back out to be able to change lives," she said. "It's a wonderful feeling to be able to have Bishop Jakes."
After the traumatic events that took place nearly five years ago, Tuff was inspired to create a mentoring program called Kids on the Move for Success. The organization provides mentoring, support and scholarships for children from Pre-K through high school and continues to welcome volunteers, sponsors and donations.
Tuff is also using her experiences to book speaking engagements at businesses, organizations and other schools to teach them tough tactics that can help them change lives. While post traumatic stress can occur from experiences like Tuff's, she decided to turn the situation into something positive.
"I take what seemed to be fear, for me, and I triumph over that fear to come back into that fear moment and say, 'How can I make a difference in my babies' lives? How can I let the next student know that they don't have to be a Michael Hill or they don't have to do anything that's going to determine their destiny for the rest of their lives?" she said. "At the end of the day, they all have purpose."
"Faith Under Fire" premieres on Lifetime on Saturday, Jan. 27 at 8 p.m. ET/PT. Aside from Braxton, the all-star cast features Malik Yoba ("Empire"), Trevor Morgan ("Abducted") and Yaya DaCosta ("Whitney").
Due to coarse language and themes, parental discretion is advised.