Appointing a Middle East Special Envoy: The Obama Administration's Golden Opportunity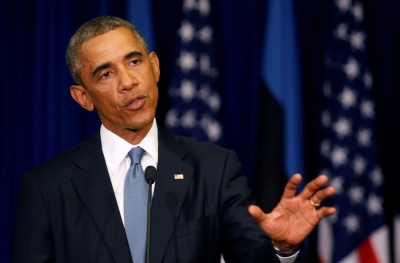 Many remember the tragedies of the Second Sudanese Civil War and the historic peace agreement made in 2005. To help bring about this peace process, the Bush Administration appointed Senator John Danforth as Special Envoy to Sudan in 2001. Without Senator Danforth's efforts and dedication serving in the role of Special Envoy, the civil war may have continued and the nation of South Sudan might not exist.
After a year of the bloody campaign waged by the Islamic State in the Middle East, the current Administration has the opportunity to appoint a Special Envoy focused on this region.
The position of Special Envoy to Promote Religious Freedom of Religious Minorities in the Near East and Central Asia was signed into law one year ago, but since its creation it has remained empty.
The need for a Special Envoy to the region grows with each passing day. ISIS' efforts to cleanse the earth of those who do not share their ideology continue to grow in coordination, scale and barbarity. Ancient faith communities have been driven out of the lands of their ancestors and huddled into camps to escape the brutality, leaving behind their homes, their belongings and thousands of years of their history.
Scores of people sit in Pakistani prisons facing execution or life sentences for violating the country's blasphemy laws. Asia Bibi, a Christian mother, has been in prison since 2009—a victim of these laws. According to reports last month, her health is now dwindling. She can barely walk and is throwing up blood in her prison cell.
Ahmadi Muslims are not allowed to call their places of worship mosques or publicly quote from the Koran. Ahmadi mosques, homes and businesses exist under the constant threat of being vandalized or burned and Ahmadi people themselves are regular victims of mob violence.
In Iran, Christians and Baha'is are arbitrarily imprisoned for years at a time and Baha'is are not even allowed to go to public colleges. This September will mark the third year in prison for Pastor Saeed Abedini, who is routinely beaten and mistreated for his Christian faith.
These people need help. They need our prayer. They need an advocate.
It is against this backdrop of suffering and oppression that the current Administration can seize the occasion to make a strident stand for these people by appointing a competent, experienced and dedicated standard-bearer to speak on their behalf.
In his remarks at the Pentagon this week, President Obama affirmed that nations who "uphold human rights for all of their people" are the ones who will "find a true partner in the United States." Now is the time to boldly act upon that sentiment and fill the Special Envoy to Promote Religious Freedom of Religious Minorities in the Near East and Central Asia.
Nate Madden is the Coordinator of Policy Relations and Outreach at the 21st Century Wilberforce Initiative. www.21wilberforce.org