'Armor Bearer Is Not a Biblical Church Office,' Says Fla. Pastor in Viral Post
HB Charles Sparks Debate About Pastoral Support Role Traditional in Some Churches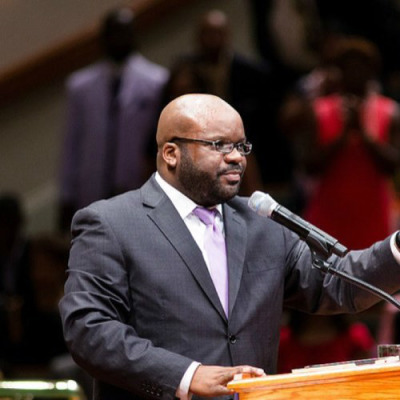 A Florida pastor has sparked an online debate about a church role – armor bearer – often tied to the Bible but yet is not described in the New Testament as an actual church position or office. His post, having attracted nearly 8,000 Facebook "likes," challenges the concept of such a position that is usually tailored to assist pastors and that can involve tasks like serving as a personal bodyguard or carrying a preacher's Bible.
"I read Terry Nance's book, God's Armor Bearers, when it was first published some years ago [1990]. I found it interesting. Then I forgot it. I never expected it would get so much traction. Yet there is a now a movement of 'armor bearers.' And I am not sure it's a good thing," writes H.B. Charles Jr., pastor of Shiloh Metropolitan Baptist Church in Jacksonville, Fla.
"Let me [be] clear. It is good for men to have hearts and hands to serve in the church. And it is good when men are willing to serve their pastor. Every man should have another man in his life that he submits to. But I wonder if all this 'armor bearer' stuff is taking things too far," Charles continues in his post titled "Armor Bearer is NOT a Biblical Church Office!"
Some Biblical passages referenced in laying out the role of an armor bearer, usually the person tasked with carrying weapons for a commander, include Judges 9:54, 1 Samuel 16:12, 2 Samuel 18:15, among other verses. But these Old Testament passages, says Charles, have no bearing on New Testament church administration.
"There are two biblical offices in the New Testament church: elders and deacons. Elders serve by leading. Deacons lead by serving," he adds in the blog post.
"As pastors, we should model Christlike humility and servanthood. We should labor to nurture biblical church leadership. Our goal should be congregational health, not personal comfort. We need Christian soldiers that will lead the army of God into spiritual warfare."
He acknowledged that security is necessary for some churches, as is the case with Shiloh Metropolitan Baptist Church, a 138-year-old congregation that is also one of Florida's largest. However, Charles, who has been serving as the church's pastor-teacher for five years, disagrees with a pastor having a personal bodyguard following him around or standing between him and the congregation.
The subject has resonated with readers, as over 140 commenters have visited Charles' website to weigh in on the use of armor bearers in churches.
Pastor Charles told The Christian Post Monday that although his comments were made in September, the armor bearer post has become the most read article he has written since 2005. He shared that in the past four days alone, "Armor Bearer is NOT a Biblical Church Office!" has attracted 25,000 hits. In addition to spreading across Facebook, the post has been re-posted on several Christian websites and forums.
While many of those who commented on Pastor Charles' blog post agree that the role of armor bearer is not specifically outlined in Scripture as a church office, some insisted that the "unbiblical" position can be useful for Christian service.
"While I agree [with] some of this perspective, I am grateful that I was taught to 'serve' even without the title 'Armor Bearer.' I also believe this might cause some who (out of a pure heart) are committed to simply assisting in whatever capacity they can to make ministry a little easier for those who serve as leaders. YES, there are many who take advantage of these kinds of people and that is wrong! But...this is a personal perspective that does not have to be subscribed to by all," wrote one commenter using the initials PCH.
Another reader, Josh Reid, commented, "Even in small churches this is still an issue. One pastor I know insists on getting his coffee, and being 'served first' as soon as he enters a room full of people. I always find it scary when a pastor starts referring to the congregation as 'his people'…"
One visitor, Deryk Hayes, expressed support for the role, but shared how he wrongly viewed the position during his "first assignment" 12 years ago as his pastor's armor bearer.
"I have the gifts of both 'helps' and service but they were tainted and didn't glorify God because I used them with a perverted and sinful heart that said 'I'm the senior pastor's right hand man,'" Hayes confessed. "Some may look at this as a great thing and it is a great thing to serve the pastor, his family and the local church but serving for the approval of that pastor, his wife and the church in dangerous and sin when Christ isn't the center and it's not for His glory."
It is those types of pitfalls that concern Pastor Charles, who believes that the role of armor bearer has become a "status symbol" that feeds into the "celebrity preacher culture."
Pastor Charles notes in his blog post that while Christians are instructed to honor their pastors, pastors on the other hand, "are commanded to be servant-leaders, not celebrities."
Charles, who said he travels extensively, told CP that not even smaller churches were immune to the trend. According to the megachurch pastor, he has witnessed churches being intentional about developing armor bearer teams, more so than they are in establishing New Testament biblical offices.
"It has nothing to do with Christian discipleship," but instead focuses on developing a "valet for the pastor," said Charles.
If the role of "armor bearer" is used for actual Christian discipleship of men, then he is for it, said Charles, who noted that such training and development "is so desperately needed in the church, particularly among African-Americans."
"If it is being used to raise godly men, godly husbands and godly fathers, then praise God for that," said Charles.
An example of some of the controversial aspects of the "armor bearer" role can be viewed in the video below, which features a seminar on "How to be an Effective Armor Bearer."