'Ash vs. Evil Dead' Hits Halloween Horror Nights 2017 in September; Bruce Campbell Teases Details of Season 3
'Ash vs. Evil Dead' Hits Halloween Horror Nights 2017 in September; Bruce Campbell Teases Details of Season 3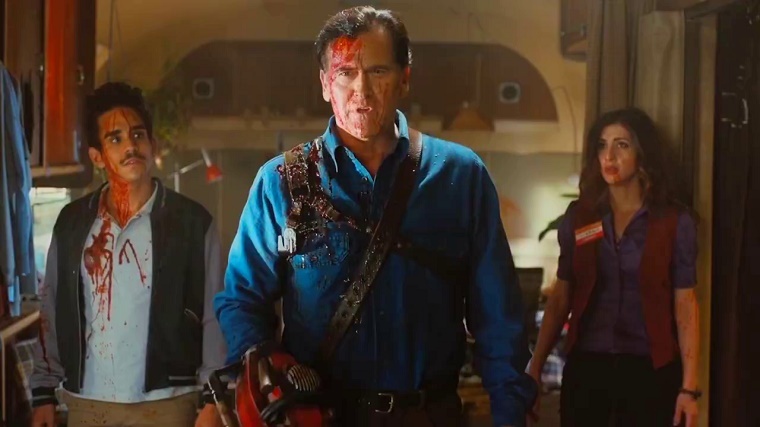 After Ash's (Bruce Campbell) life was reset at the end of the season 2 finale, one would think that things are finally off to a brand new start for Elk Grove's previously unsung hero. After all, it would no longer be "Ash vs. Evil Dead" if the Deadites and the other horrors of the Necronomicon didn't haunt Ash anew on the series' upcoming third season.
And as if this isn't bad enough, Campbell himself has recently revealed that in this new timeline, Ash has actually spawned a teenage daughter. In an interview with Syfy Wire during the Saturn Awards, Campbell teased that the world itself will never be the same by the end of the upcoming third season as a result of something big and unexpected happening to his character and the rest of his crew.
In addition to having to save the world, Ash will also be raising a daughter, whom Campbell described as "an unruly teenager." It is still a mystery who has been cast to play the part. Campbell did, however, reveal that the demons will be targeting his child and that she's going to be in serious trouble once the third season begins.
Filming for the said season is still currently underway, but Starz has yet to announce an actual air date for the Ghostbeaters' highly anticipated return. What kind of life will Kelly (Dana DeLorenzo) and Pablo (Ray Santiago) be leading now? Did they decide to stay with Ash in Elk Grove, or did they end up going their separate ways? What is the '80s Ruby (Lucy Lawless) doing in this particular timeline? And who was it that picked the Necronomicon up in that season 2 finale stinger scene?
Viewers may have to wait a while longer for the series' third season. In the meantime, Universal has put together a treat to help make the wait bearable with an "Ash vs. Evil Dead" experience at this year's Halloween Horror Nights.
Both Universal Orlando and Universal Hollywood will be opening an "Ash vs. Evil Dead" maze that transports guests to the town of Elk Grove in Michigan, where a host of Deadites awaits them. Additionally, the said experience will also bring guests on the path of some disturbing characters along with the most humorously iconic and goriest scenes from the past seasons.
Halloween Horror Nights 2017 will be open on select nights from Friday, Sept. 15 to Saturday, Nov. 4.