Pakistani Christian Mother on Death Row for Blasphemy Forgives Muslim Persecutors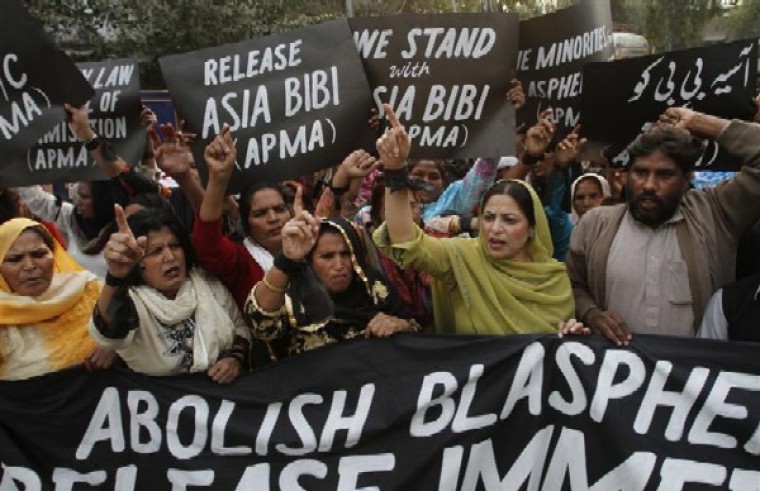 Asia Bibi, a Pakistani Christian woman sentenced to death for blasphemy, has told her family who visited her in prison that she has forgiven those who falsely accused her.
"Christmas is the celebration of God's mercy. I forgive my persecutors, those who have falsely accused me, and I await their forgiveness," her family quoted her as saying, according to the Italian newspaper La Stampa.
Bibi was sentenced in 2010 following an incident in 2009 where she was harvesting berries with a group of Muslim women who accused her of drinking from the same water bowl as them. An argument followed, and those women went to a local cleric and told him that Bibi had blasphemed against Islam.
Last October, the Lahore High Court upheld her death penalty, and the Supreme Court is expected to schedule an appeal hearing soon.
"Jesus made this happy day for me and has accepted my prayers. I'm excited and full of joy in meeting today my family and celebrate Christmas with you," she told her family when they met her on Christmas Eve, as translated by Christian Today from a La Stampa report.
"Today [Dec. 24] is also the birth of the Islamic prophet Muhammad. Peace be upon him, on this day. Honestly, I could never even think of disrespect. But, although I have been in prison for seven years, I do not hate those who did me wrong," she added.
She continued: "I pray that Muhammad will bestow wisdom on his followers so that peace can go on being built around the world. I pray that Jesus Christ will grant peace to the whole world."
Allegations of blasphemy often "stem from the Muslim accuser's desire to take revenge" and to "settle petty, personal disputes," according to Pakistan's Centre for Legal Aid, Assistance and Settlement, or CLAAS.
Pakistan's blasphemy laws, which are embedded in Sections 295 and 298 of the Pakistan Penal Code, carry a death penalty, and yet there is no provision to punish a false accuser or a false witness of blasphemy.
"There is a rising tide of religious persecution by the state and by militants," said Katrina Lantos Swett, chairperson of the United States Commission on International Religious Freedom and her fellow commissioner, Mary Ann Glendon, in a report they released after their visit to Pakistan last year.
"The commission is aware of almost 40 people on death row or serving life sentences for blasphemy, a statistic unmatched in the world. The law fosters violence against religious minorities, such as Christians, Hindus and Ahmadis," they noted.