Atheist Church Sunday Assembly Opens in 35 More Towns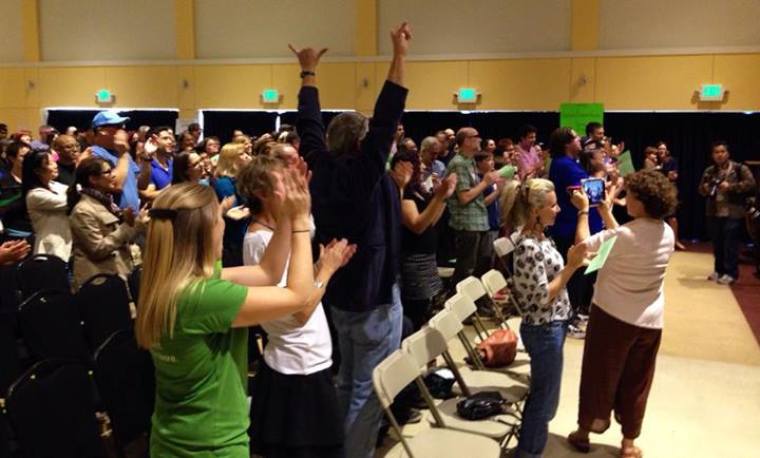 Nearly three dozen towns around the world, including in the U.S. and France, launched their first "Sunday Assembly," also known as the atheist church, on Sunday.
According to the Sunday Assembly website, 35 towns launched new Sunday Assemblies, adding to the more than two dozen Sunday Assemblies that were already established. The group says its mission is to tackle loneliness and social isolation.
"And the world certainly needs more community: social isolation and loneliness are on the rise with 40% of US adults say they are lonely compared to 20% in the 80s and 1 in 10 UK adults say they have no close friends," the website states. "This has massive effects on society, and on the health of society with studies showing that loneliness has comparable impacts on your health as smoking and obesity, it impairs immune function and boosts inflammation and can contribute to arthritis, type II diabetes and heart disease."
The Guardian reported on Sunday that the meeting in France had a "festive atmosphere" and featured a message of joy to about 130 Parisians who gathered. The hour-long event, modeled not unlike religious church gatherings, included sing-alongs, a party game, and a moment of silent reflection before coffee was served.
British comedian Sanderson Jones, one of the founders of the group, said there were "so many things that I like about church, such as the community, and the singing, but there was one thing I didn't like and that was God." He and fellow comedian Pippa Evans decided to "steal the best bits" and form The Sunday Assembly.
With its beginnings in London in January 2013, the group has spread to major U.S. cities like Los Angeles, San Diego, Nashville and New York. Around the world, non-theists are now meeting in Belgium, Netherlands, New Zealand, Canada, Hungary and Germany.
In a separate 2013 interview, Jones again explained that he finds a lot of benefits in church, but rejects its central premise of worshiping God.
"If you think about church, there's very little that's bad. It's singing awesome songs, hearing interesting talks, thinking about improving yourself and helping other people – and doing that in a community with wonderful relationships. What part of that is not to like?" the comedian reflected.
"When we started this in London, people said the British won't do happy-clappy. They said the same thing in Leeds about people in Yorkshire. But everyone loves an excuse to feel like that," he said.
According to the website, the average congregation size of Assemblies is 60-80. Another 15 Sunday Assemblies are expected to launch early next year.