Atheist Group Demands End to 'Prayer Walks' at Mississippi Public Schools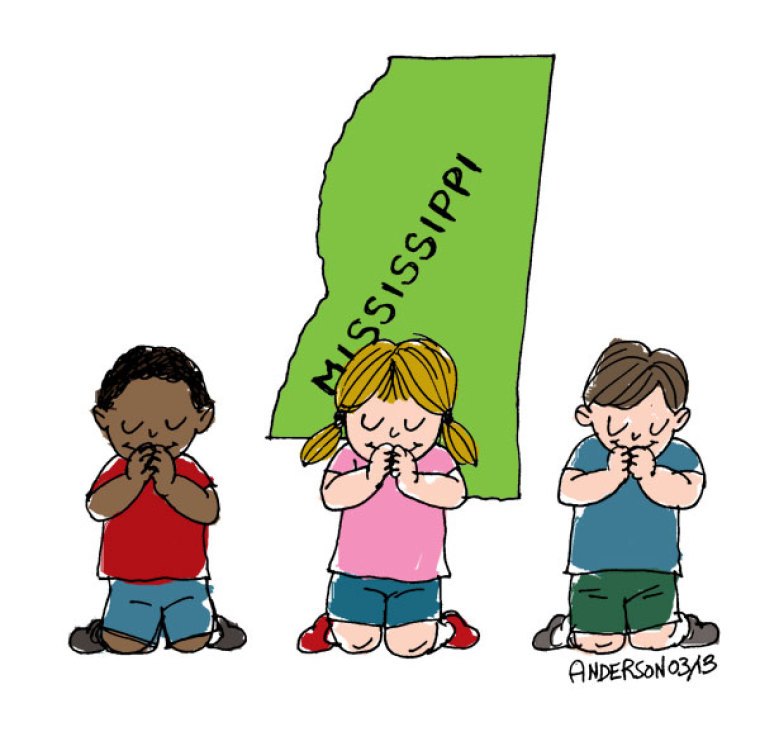 A Wisconsin-based legal group is pressuring four Mississippi public schools to end their annual tradition of holding "prayer walks" to mark the start of each new school year.
The Freedom From Religion Foundation, which advocates for strict separation of church and state, sent a demand letter last week to Calhoun County School District Superintendent Mike Moore alleging that four schools in its district have violated the Establishment Clause of the First Amendment to the United States Constitution.
The letter, which was written by FFRF attorney Sam Grover, explains that Bruce High School, Calhoun City High School, Vardaman High School and Calhoun Academy had recently held prayer walks. According to the letter, the "prayer walks" were prayer events that were held on school property and organized, staffed and led by school officials.
The Commercial Appeal, a Tennessee outlet affiliated with the USA Today Network, reports that the prayer walks are an annual tradition to mark the beginning of the school year.
"That these prayer walks were deliberately aimed at students who are young and susceptible to religious messages adds a deeply disturbing element to this violation," FFRF Co-President Annie Laurie Gaylor said in a statement.
Grover's letter claims that when interviewed about the prayer walks, a number of staff members endorsed Christianity. One of the staff members allegedly said the purpose of the prayer walks was "to be able to lift our school systems up, encouraged them, especially those who believe, who are Christians."
"The district should make certain that teachers in its schools are not unlawfully and inappropriately indoctrinating students in religious matters by encouraging them to engage in prayer during an event designed to blur the lines between religion and the public schools," Grover argued.
In the letter, Grover asserts that the school district must ensure that it does not allow its employees to "organize or participate in" any future religious events while acting in their official school district capacity.
"Public school teachers may not lead, direct or ask students to engage in prayer or otherwise endorse religion," the letter states. "The Supreme Court has continually struck down teacher or school-led prayer in public schools."
Grover's letter cited the 1962 case of Engel v. Vitale, where the Supreme Court ruled that it is unconstitutional for public school officials to create an official school prayer and encourage its recitation. The letter also cited the 2000 case of Santa Fe Independent School District v. Doe, where the court ruled that a school policy allowing student-led and student-initiated prayer at high school sporting events violated the First Amendment.
"Bruce High School Principal Dallas Gore stated that through the prayer walk, he and his teachers tried to 'change the culture of the school,'" Grover's letter adds. "That remark sends a clear message to students and their families that their teachers and principal favor Christians. Before the school year has even started, Principal Gore has alienated students who don't subscribe to his personal religion."
"Principal Gore was correct when he observed that these children are moldable" and "these children are still impressionable," the letter continues. "The fact that the prayer walks were targeted at students who are so young and impressionable makes the event particularly unlawful."
The letter demands that the school staff be barred from organizing future prayer walks within the school district. The letter also calls on school administrators to issue public apologies for "proselytizing statements" they made at this year's prayer walks.
The Christian Post reached out to the school district for comment on how it will respond to the FFRF letter, but a response was not immediately available.