Atheist Group Sends Books to Georgia State Parks to Place Next to Gideon Bibles Inside Cabins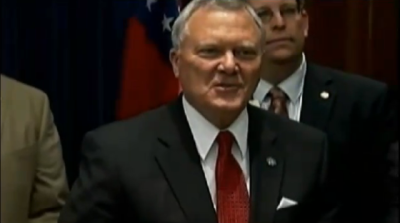 The American Atheists of Cranford, N.J., announced Friday they will be sending books on atheism to the Georgia Department of Natural Resources to be placed next to Gideon Bibles inside every cabin and lodge at the state's parks.
On April 28, Ed Buchner, the former president of American Atheists, a nonprofit organization that was founded by Madalyn Murray O'Hair in 1963, complained to the Department after he found "nine Bibles" inside his cabin, according to American Atheists.
In a move to avoid controversy, and a potential lawsuit, the decision was made to remove all Bibles from the state's parks that had been donated by The Gideons International, an interdenominational Christian association.
On Wednesday, following a meeting with Georgia Attorney General Sam Olens, Gov. Nathan Deal instructed the Department to return every Bible to cabins at the state's parks.
"Out of an abundance of caution to avoid potential litigation, the commissioner removed the Bibles from rooms – though they were still available on site – after a complaint from a visitor. The attorney general and I agree that the state is on firm legal footing as we move to return the Bibles to the rooms."
He continued: "These Bibles are donated by outside groups, not paid for by the state, and I do not believe that a Bible in a bedside table drawer constitutes a state establishment of religion. In fact, any group is free to donate literature."
In response to the governor's statement, Amanda Knief, managing director of American Atheists, said, "We appreciate the governor's invitation to place atheist books in the cabins and look forward to providing visitors with the opportunity to learn more about atheism when they visit Georgia's beautiful state parks."
Francine Jarriel, a lodger at Mistletoe State Park in Appling, Ga., said she looks inside the drawers of hotel rooms to see if the Gideon Bible is there. "It's a source of comfort," she told WJBF-TV.
David Silverman, president of American Atheists, announced in a statement, "American Atheists does not believe the state of Georgia should be placing Bibles or atheist books in state park cabins; however, if the state is going to allow such distribution, we will happily provide our materials."
The list of books American Atheists is going to send to the Georgia Department of Natural Resources include: Why I Am Not A Muslim, Why I Am An Atheist, god is not Great, and The God Delusion.
Malcolm Arvin, a Gideons spokesman, said the group has provided Bibles for state lodges around the United States and said he knew of no other state where the religious books have been challenged, according to Reuters.
WJBF-TV ABC 6 Augusta-Aiken News, Weather, Sports