Atheists Slam Columbine Massacre Faith-Film 'I'm Not Ashamed,' for Alleged Lies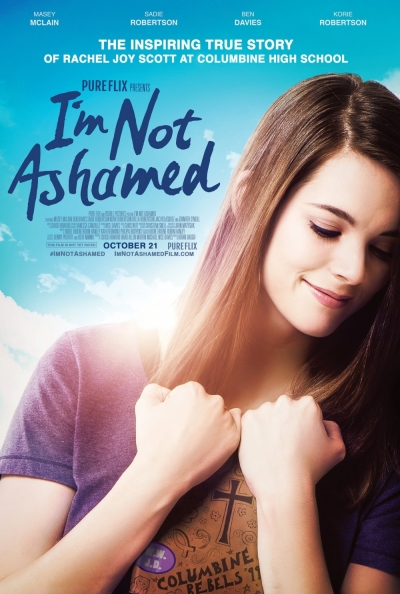 Members of the atheist community have been ramping up their criticism of the faith-based movie "I'm Not Ashamed" that opens in theaters on Friday, and are accusing it of telling lies about the Columbine High School massacre of 1999.
Fox News reported on Thursday that websites such as That Atheist Show are outraged over a scene in the film that depicts the first victim of the massacre, Rachel Scott, standing up for her Christian faith and answering that she still believes in God after one of the two teen shooters asks her that question before she's killed.
Some atheists are insisting that no such conversation took place, arguing that police reports from the events on April 20, 1999, do not align with what the movie is trying to present.
"It is shameful that they are framing the entire premise of this movie around allegations that do not have any evidence to support them," the blog argues.
"The accounts of that day, actually, directly contradict them," it adds.
The atheist criticism against the movie reached such intensity that the film's trailer was blocked on YouTube for 11 months because it was flagged by members of the community who were seemingly upset with its representation of what happened.
The filmmakers are standing by the story, however, and say the conversation in question is found in later statements made by witness Richard Costaldo, who says he was near Scott when the killers opened fire.
"Duck Dynasty's" Sadie Robertson, who stars in the movie and has been promoting the project, has insisted that the film deserves a chance to tell the story.
"The Columbine story is one that everybody's heard, but not everybody knows of Rachel Scott's story and it's a story that needs to be heard," Robertson told FOX411 in September.
Robertson further told The Christian Post in an interview in October that Scott's story is one all teenagers and young adults need to hear.
"We worry so much about what people think of us and so we often don't stand up for what we believe in. Rachel literally gave her life for what she believed in. As a Christian, that is something I really admire. I want to be a part of spreading that message," Robertson told CP.
When asked how she would react in a similar life or death situation as Scott, the "Duck Dynasty" star answered: "The thing is, Jesus died for us so we should be able to die for Him. It is an important question to ask yourself."
The film's trailer is now back up on YouTube and hits theaters nationwide on Friday.