Attendees at school board meeting recite Lord's Prayer after board president says it's 'not permitted'
Christian legal group urges school district to clarify policy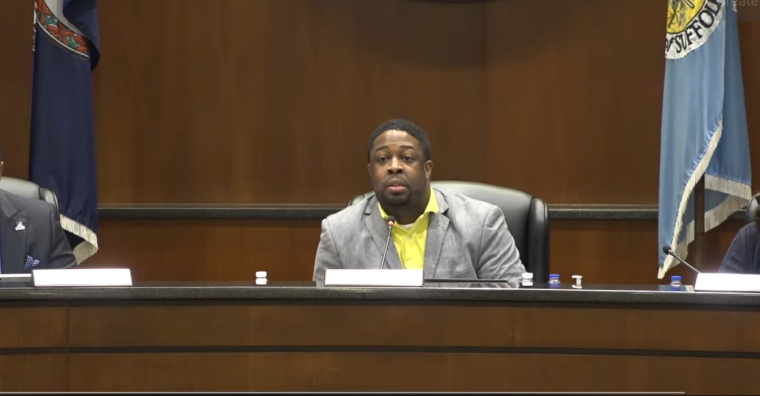 A Virginia school board is being asked to clarify its policy on prayer after the board president would not allow a local resident to use her public comment time to pray for the school district.
At an Aug. 10 school board meeting in Suffolk, resident Angela Kilgore offered to use the remainder of her allotted comment time to pray "for Suffolk public schools" and its board members when she was prevented from doing so by Board Chair Tyron Riddick.
"I apologize, we can't do that," he replied.
"Why can't we?" Kilgore said. "I like to pray for our students in our school."  
The tense exchange escalated when Riddick ordered Kilgore to "get back on to your topic."
"That is my topic," she said.
"Well, then it's not permitted at this time," said Riddick.
"To pray for our schools is not permitted?" Kilgore asked.
"That's correct," he replied.
Kilgore then invited those in attendance at the meeting to join her in prayer," saying, "I'd invite you because I think that that's the only way that we're going to come together is through God and our faith."
As she stepped away from the podium, Riddick addressed the audience directly. 
"I do want to clarify, I don't object to prayer," he said. "I believe that man should always pray. I mean, I love prayer, but this is not the place per the law."
As Riddick asked for one of the school district's attorneys to address the issue, Kilgore and others began to pray the Lord's Prayer from Matthew 6, a portion of which was caught on the open mic.
Riddick then called the meeting into recess as one of the board members was overheard telling Riddick, "Ask the officers to remove her."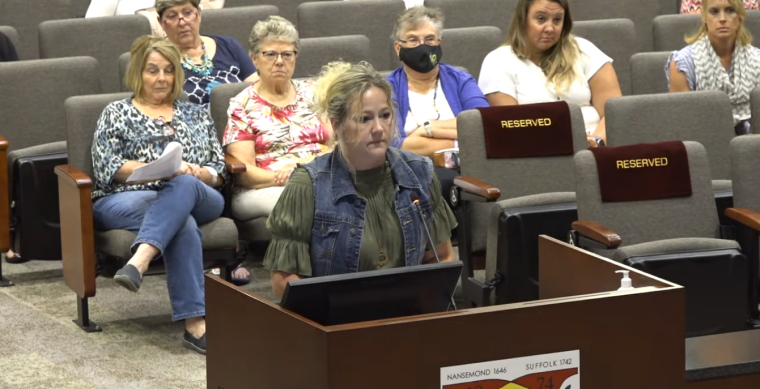 He instructed school police officers to "clear the room" during the recess even as several of those in attendance continued in prayer.
Video footage showed a police officer approaching those in prayer before the video footage abruptly ended.
Riddick then returned to the microphone and informed the audience that the board would take a five-minute recess, but not before expressing his respect for "the book," an apparent reference to the Bible.
"I believe in abiding by a book that is very influential and it says to be decent and in order, and we have to be mindful that we don't cherry-pick the book," he said. "But conduct unbecoming will not be tolerated, since it's not a place to grandstand. 
"We're here for business, and if we're truly about our Father's business, we would be decent and in order. We can respectfully disagree, and if we fall short, we can repent."
The Christian Post reached out to Riddick for comment but did not receive a response by press time. This story will be updated if any response is received.
In response to the exchange between Kilgore and Riddick, attorneys with the Founding Freedoms Law Center and First Liberty Institute sent a letter on Sept. 5 to the Suffolk School Board "urging members to update their public comment policies to reflect the right of religious citizens to express their viewpoint without fear of censorship."
"The First Amendment prohibits a school board from silencing a citizen's prayer out of phantom concerns over violating the Establishment Clause," said Josh Hetzler, legal counsel for Founding Freedoms Law Center. 
"We hope the school board will clarify its policy and we'd be happy to assist in ensuring that the constitutional rights of religious citizens are protected."
Since the onset of the COVID-19 pandemic lockdowns, school board meetings across the nation have been ground zero for clashes between parents and administrators over curriculum, health and safety, and other topics.
In 2021, a Loudon County, Virginia, public school board meeting resulted in two arrests and silenced public comments after a heated discussion erupted regarding new transgender policies and the sexual assault of a female student.
Earlier this summer, at least two members of a California school board received death threats over the board's policy on notifying parents about their child's welfare, including any request to be identified as the opposite sex.