Attorney General Eric Holder to Resign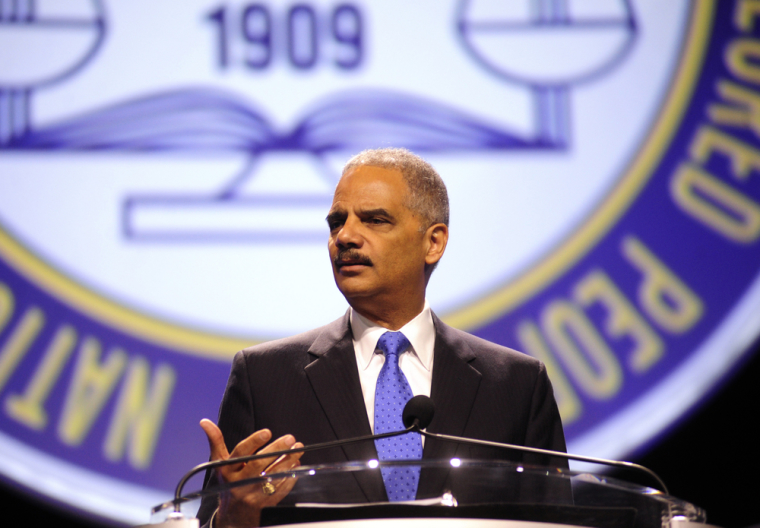 Attorney General Eric Holder, the first African-American and 82nd person to hold the post is expected to announce his resignation Thursday, according to Justice Department and White House officials.
President Barack Obama will also make an announcement on Holder's resignation at the White House on Thursday according to The Wall Street Journal.
According to The New York Times, however, Holder, who has served as attorney general since the start of the Obama administration, will not leave office until his successor has been nominated and confirmed.
Among the names mentioned to replace Holder, according to the Times, are: Kathryn Ruemmler, former White House counsel; Gov. Deval Patrick of Massachusetts; Solicitor General Donald B. Verrilli Jr.; former Gov. Jennifer M. Granholm of Michigan; Senator Sheldon Whitehouse, Democrat of Rhode Island; and Loretta E. Lynch, the United States attorney in Brooklyn.
The Times noted that Holder finalized his decision to leave office over the Labor Day weekend after an hour long conversation with President Obama at the White House.
Earlier this week, Holder announced that the federal inmate population fell by 4,800 inmates since September 2013. This was the first time this had happened in a fiscal year since 1980 according to a release from the Justice Department.
"This is nothing less than historic," said Holder in the release. "Clearly, criminal justice reform is an idea whose time has come. And thanks to a robust and growing national consensus — a consensus driven not by political ideology, but by the promising work that's underway — we are bringing about a paradigm shift, and witnessing a historic sea change, in the way our nation approaches these issues."
A signature of Holder's time in office is his push to change what he says are fundamental inequities in the criminal justice system, according to the Times.
Holder, according to his Justice Department profile, grew up in New York City where he attended public schools before moving on to Columbia College. He graduated from Columbia Law School in 1976.
Before becoming Attorney General, he was a litigation partner at Covington & Burling LLP in Washington. He currently lives in that state with his wife, Dr. Sharon Malone, and their three children.