Former Desiring God writer Paul Maxwell announces he's no longer Christian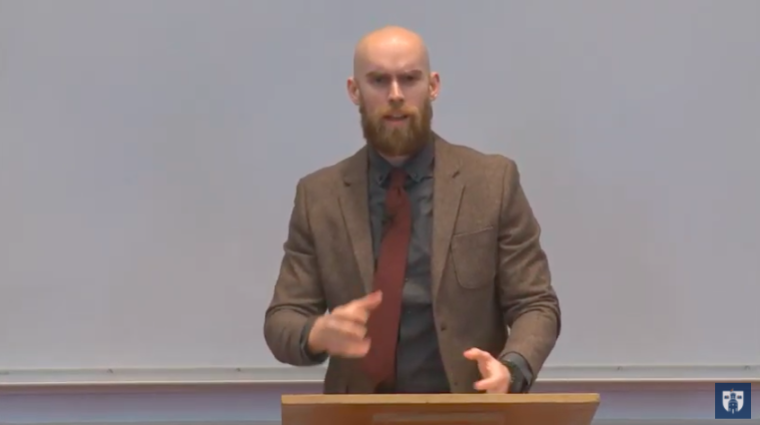 Paul Maxwell, a former Desiring God writer and the author of the book The Trauma of Doctrine, has announced he is no longer a Christian. 
"What I really miss is connection with people," Maxwell said on his Instagram feed. "What I've discovered is that I'm ready to connect again. And I'm kind of ready not to be angry anymore. I love you guys, and I love all the friendships and support I've built here. And I think it's important to say that I'm just not a Christian anymore, and it feels really good. I'm really happy."
"I can't wait to discover what kind of connection I can have with all of you beautiful people as I try to figure out what's next," he added. "I love you guys. I'm in a really good spot. Probably the best spot of my life. I'm so full of joy for the first time. I love my life."
Maxwell, who has his Ph.D. in theology and has written on the topics of theology, trauma, and fitness, later followed up with a message to those who told him he's going to Hell and are "not really happy" as a result of his rejection of Christianity. 
"I just say, 'I know that you love me.' I know, and I receive it as love. I know you care about the eternal state of my soul and you pushed through the social awkwardness of telling me this because you don't want me to suffer. And that is a good thing. That's a loving thing to do. And I hear where you're coming from, and I respect your perspective."
Maxwell is the latest high-profile Christian figure to publicly renounce his faith in recent years.
Last year, Jon Steingard, the Canadian Christian rock band Hawk Nelson's lead vocalist, announced on social media that "I no longer believe in God," explaining "it didn't happen overnight."
In 2019, Joshua Harris, author of the controversial Christian bestseller I Kissed Dating Goodbye, sent shockwaves through the evangelical Christian community after he published an Instagram post announcing: "I am not a Christian. Many people tell me that there is a different way to practice faith and I want to remain open to this, but I'm not there now."
A short time later, former Hillsong singer and songwriter Marty Sampson posted on Instagram: "Time for some real talk … I'm genuinely losing my faith … and it doesn't bother me."
In an interview with The Christian Post, H.B. Charles Jr., author and pastor of Shiloh Metropolitan Baptist Church in Jacksonville, Florida, said stories of defections from the Christian faith should serve as a "wake-up call" to the Western Church. 
"The corporate worship of the Church is a key way to not only disciple the young generation but to strengthen all the saints to be steadfast in their faith," he said. "My perseverance in the faith is not so much about me holding fast to Christ, but Him holding fast to me. We need to be teaching and singing sound doctrine. I believe that there is no need for something exotic or special in order to build faith and sustain faith for the long haul."
Charles added that teaching the fundamentals of the Christian faith will "nurture the coming generation and help the saints to be focused on Christ and not man."
"I feel like, to the degree we fail to do that, we'll hear many more of those stories, unfortunately," he warned. "If faithful pastors and worship leaders don't declare their faithfulness to the Word of God and seek to lead their congregations in faithfully worshiping Him, this drift will continue." 
In a 2019 interview, Gospel Coalition founder and theologian Don Carson issued a word of caution to those tempted to judge those who have apostatized and called for discernment, offering the reminder that "just as it's possible to stereotype those who have fallen away as losers, so it's possible to stereotype those who are saying that they're losers."
"They don't have labels on their foreheads," Carson told CP. "So it might be that they need listening to and praying over, praying with, and so on. They might come back. I could tell you some remarkable stories of people who wandered away and what we would call backsliding, who nevertheless returned to the Lord a couple of decades later. So you want to allow that as a possibility and not, in any case, be supercilious or condescending."
"It's all 'good guys and bad guys' without discernment and recognition that the Bible pictures falling away and inconsistency in many, many different categories," the theologian added. "Repentance is possible, as well as a renewed commitment to the covenant. It doesn't have to turn out in a bad way."
The proper response to deconversion stories, according to Carson, is humility and prayer, acknowledging that "but for the grace of God, go I."
"At the end of the day, apart from the grace of God," he said, "we're all dead."