Ayesha Curry Joins Campaign to End Child Hunger by Launching Line for William-Sonoma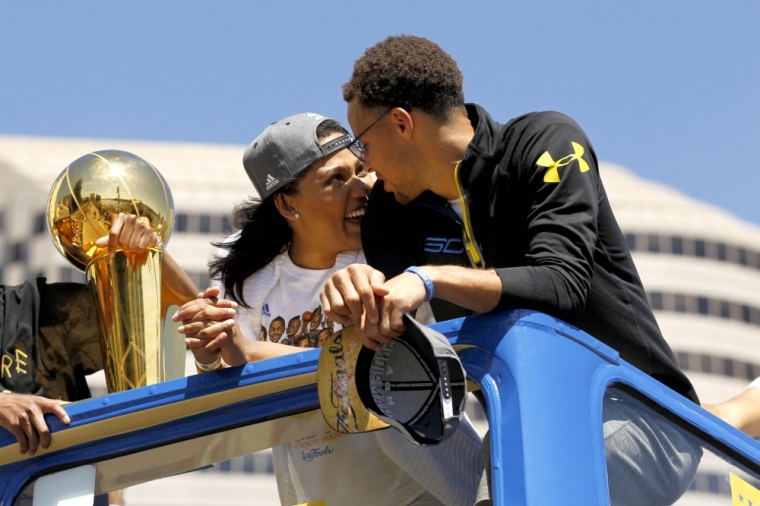 Aspiring to do more than build a culinary empire, Ayesha Curry is joining the campaign to end child hunger in America by teaming up with the nonprofit group No Kid Hungry.
The budding chef and wife of NBA star Steph Curry has designed the spatulas for high-end retailer Williams-Sonoma. The company annually teams up with No Kid Hungry, a charity set up to help the more than 16 million children who are undernourished, by giving a portion of the sale of certain products to the organization.
Curry, a mother of two, is doing her part to help by designing colorful spatulas for the specialty retailer.
Curry took to Instagram to preview the spatula designs that include a salt and pepper shaker labeled "Curry" in gold and blue hues similar to her husband's Golden State Warriors uniform with a chef's hat and the catch phrase "thyme to cook," and a less animated crisp white design with her signature and the No Kid Hungry logo.
"Super excited to be apart of this annual launch with @williamssonoma supporting @nokidhungry!!! I designed this spatula w the help of my brother @jazmiyagi," she wrote. "Go pick up a spatula. Proceeds benefit @nokidhungry #shareourstrength. ... Can you spot yourselves #dubnation?! This spat is full of puns."
Curry's decision to sign on with William-Sonoma seems to be a natural progression since she has been mentored by the culinary director of the company, Amanda Haas, for the past three years.
"I was blown away by her recipes, her voice and her strong point of view. People want to be influenced by Ayesha," Haas said in an interview with ESPNW. "They are trying to do what she is doing by making something every night that tastes good. Like Stephen, she can be a role model too."
The first lady of the Curry household has been building her brand with a list of accomplishments that include collaborating on a pop up restaurant with chef Michael Mina, writing a cookbook and hosting an upcoming show on the Food Network, and working on a footwear line for children.
In addition, she signed on to endorse the ZÜPA NOMA and has launched her own food delivery service called Gather earlier this year.