Baby In Undercover Anti-Abortion Video Was Stillborn, Not Aborted, Producer Says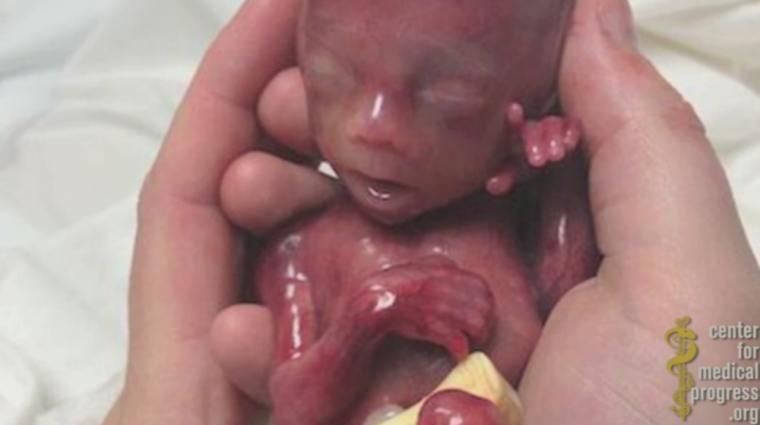 The Center for Medical Progress clarified that in its most recent video the baby depicted is from a stillborn birth, not an abortion, but was used to show viewers what the second trimester babies from whom Planned Parenthood is harvesting organs looks like.
In a second identical uploaded video on Thursday to the CMP YouTube page the organization noted that the image is of Walter Fretz, who was born prematurely at 19 weeks. Much of the video features Holly O'Donnell, a former procurement technician, testifying about late term abortion procedures. A previous uploaded video made no mention of the origin of the infant or its circumstances, causing some to allege the pro-life organization was misleading viewers.
CMP linked to the Daily Mail story that offers the particulars of Fretz's delivery by his mother Alexis Fretz, 30, who held the baby in her arms while surrounded by her family.
In a screen grab captured by Think Progress, a liberal political news blog, they shared a message purportedly from Walter's mother, who says she did not agree with CMP's use of Walter's image.
"Yes, the photo at the end of the newest video about Planned Parenthood is Walter," declares Fretz. "No, they did not ask for permission to use the photo and YES that is illegal. No, I am not going to do anything about it. It is not the first time that Walter's photo's have been used without my / our knowledge.
"We are placing our family and Walter in the hands of the Lord. I can spend countless hours worrying about this and scouring the internet or I can trust that in all things, God will protect us and His plan is perfect!," Fretz added.
Fretz originally published the images of her son on her own blog in June of 2013.
"I wish that this hadn't happened, but it did for a reason," wrote Fretz. "Maybe that reason was to share with the world how perfect a baby which is legal to abort in many states really is," she added.
The Hill reported Friday that Planned Parenthood is considering a lawsuit against the Center for Medical Progress.
"I absolutely do believe that they have violated laws in terms of how they secured these videos," said Dawn Laguens, executive vice president of Planned Parenthood. "But the fraud is also in how they have presented them and in the editing."
"We are considering everything," she added. "I'm not a lawyer — but everything is on the table when you look at these videos and the fraud and the conspiracy behind it."
After the Center for Medical Progress clarified the images were not from an abortion following the release of the video, Planned Parenthood attacked the pro-life organization.
"This fraudulent smear campaign is falling apart on closer inspection," said Eric Ferrero, vice president for communications at Planned Parenthood Federation of America.
Saturday, thousands attended rallies in front of hundreds of Planned Parenthood clinics across the nation. In a story covered by The Christian Post, the "National Day of Protest Against Planned Parenthood" reached all 50 states and was held at over 300 clinics.
According to The Hill, David Daleiden, project lead for the Center for Medical Progress, pointed out that the organization never said the image was an aborted baby.
"We never claimed that was an image of an aborted baby. It's just an illustration of what a baby looks like at the end of the 2nd trimester," Dalieden wrote in a statement. "It's interesting that Planned Parenthood and their allies assumed so quickly that's what was happening — are they just grasping at straws, or are their consciences also starting to get to them?"