Baby Jasleen: Biggest Baby Ever Born in Germany at 13 lbs 4 ozs (PHOTO, VIDEO)
Baby Jasleen has been declared as Germany's biggest ever baby recording, weighing in at 13 lbs 4 ozs. Amazingly she was born naturally without a Cesarean section on July 26 in Leipzig, Germany.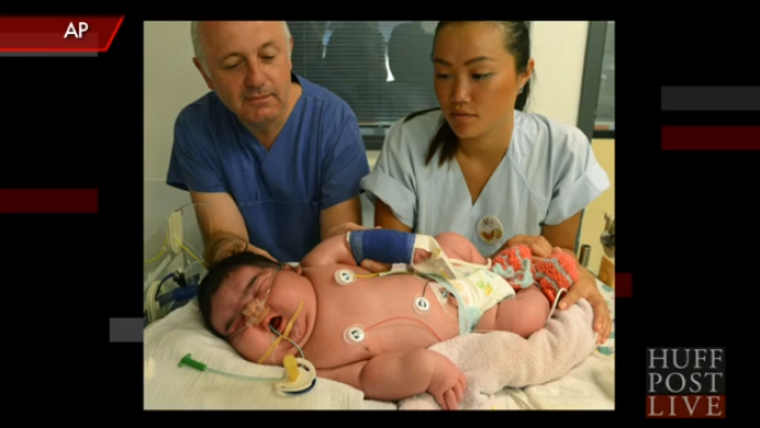 Doctors have confirmed that they discovered the mother had suffered from gestational diabetes, and that is likely what led to the heavier birth weight of her baby.
However, despite the large size of Baby Jasleen, she was born healthily with no major complications for mother or baby, and both are said to be doing well in the neonatal care unit of the University Hospital in Leipzig.
Despite the surprising weight of Baby Jasleen, she is in fact nowhere near the world's largest ever baby. The Guinness Book of World Records has registered the heaviest baby ever born as being a boy weighing over 23 pounds. He was born in Ohio in 1879 but tragically died only 11 hours after birth.
Just earlier this year in March, a baby was born in the United Kingdom weighing 15 pounds, 7 ounces - about twice the size of an average baby. The newborn was the second biggest newborn ever born naturally in the U.K.
Baby George King was born in a dramatic delivery, and in the aftermath of the birth the delighted parents explained that they had to get rid of all the newborn baby clothes and diapers they had prepared for their son - as they didn't fit.
Baby George was also born completely naturally, which is extremely unusual for a baby of his size. In that case there also was no indication that baby George would be that big - both of his parents were born at more regular sizes, and are not particularly big themselves.
Baby George's size caused significant difficulties for his mother, Jade. Mid-way through the delivery - after baby George's head had already popped out - he became stuck. His relatively giant size for a newborn meant he simply was struggling to get his shoulders out.
Mom, Jade, has described that "that's when things got scary," as about 20 medical staff ended up in the room working on freeing the baby.
That sparked a big emergency for doctors and midwives, and baby George was oxygen deprived for a full five minutes - with doctors saying that he had only a 10 percent chance of survival at that point.
However, he was eventually delivered successfully and was transferred to another hospital for specialist care. He was only allowed home more than four weeks after his birth as he recovered from his ordeal.
Parents Jade and Ryan have confirmed that he entirely skipped his newborn clothes and went straight into 4-6 months clothing.