Baby Kissed by Pope Francis Recovers From Brain Tumor, Will Start School in Fall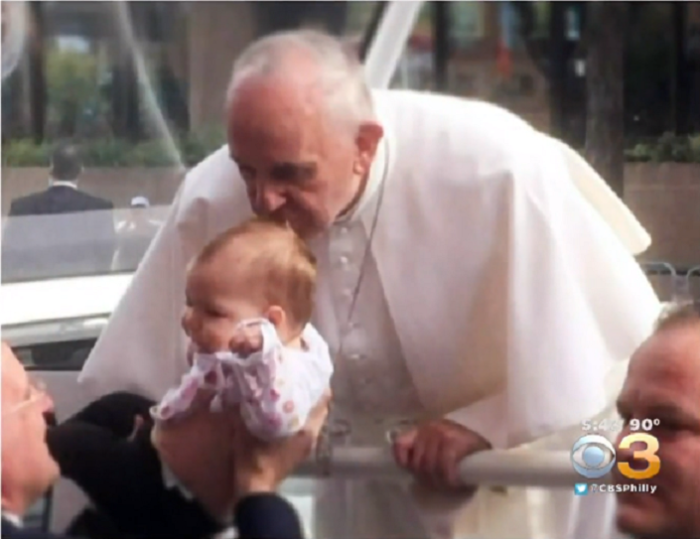 The parents of a girl who recovered from a brain tumor after she was kissed on the head by Pope Francis continued to celebrate her recovery Friday with a $50,000 donation toward pediatric brain tumor research.
"She's doing great. She's going to attend preschool this fall. She's so excited," Kristen Masciantonio told CBS Philly in a recent interview of her now 3-year-old daughter, Gianna Masciantonio, who was treated at Children's Hospital of Philadelphia.
Francis was traveling down Market Street as part of his 2015 Papal visit to three U.S. cities, including Philadelphia, when he decided to plant a kiss on the head of the then 1-year-old Gianna. He had no idea at the time that she was suffering from a debilitating brain tumor stemming from her struggle with Histiocytosis.
Histiocytosis is a group of rare disorders involving specific cells that normally have important roles as part of the immune system. The cause of the disorder is unknown but it can frequently behave like cancer.
Dr. Amish Shah, who treated Gianna and watched her recovery at the Children's Hospital of Philadelphia, said she's one of about 40 people ever recorded to have the specific condition resulting in a brain tumor.
"She's blown our expectations out of the water in terms of how she's doing. She's resilient and she's tough, and instead of taking all this as something to be fearful of, she's really taking this in stride," Shah, a pediatric neuro-oncologist at CHOP, told CBS on Friday.
"From what I thought at age 4 months when I operated on her, if you would have told me she'd be running around getting ready to start preschool, I would have told you you'd be crazy. It just wouldn't happen," added Dr. Phillip Storm, the chief of pediatric neurosurgery at CHOP.
Gianna's father, Joey Masciantonio, said he has been amazed by his daughter's recovery from the tumor.
"Seeing your kid run around and seeing her doing the things she's doing with what they told us from the beginning is amazing," he said.
The Masciantonio family believes their faith and the team of doctors at CHOP who treated Gianna made her recovery possible and showed their thanks by donating $50,000 to the hospital in the name of Gianna's foundation — For the Love of Grace.
"This place (CHOP) is so special to us in our heart," Joey Masciantonio told CBS Philly. "What they did for Gianna is something for us that no amount of money could ever repay, but we just want to help the kids."
In 2016, the family told CBS that they had been so worried about their daughter's health they almost didn't go to see the pope. It was Shah who gave them the go ahead and it ended with a kiss from the pope.
"I think Pope Francis is a living saint and to us he gave us a sign that God has been with us through this entire journey," Kristen Masciantonio explained at the time.