Bald Eagle Crashes Into Window at Oral Roberts University's Christ Chapel; Cheers Turn to Screams Amid Startling Accident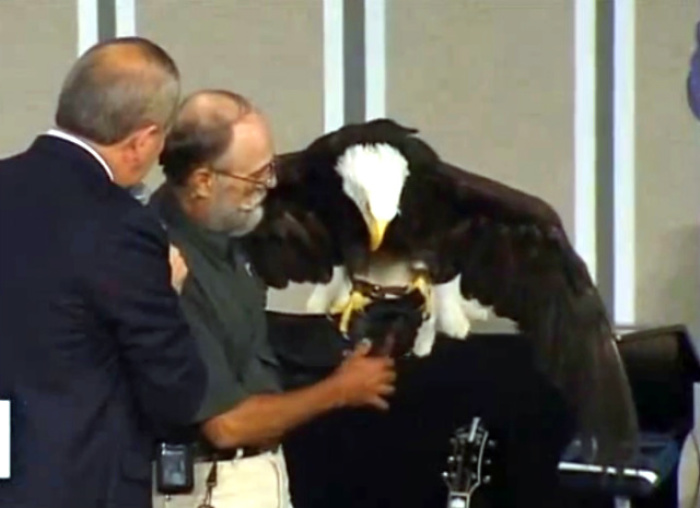 Students at Oral Roberts University went from hooting and hollering and chanting "USA!" to screaming in horror as a Bald Eagle let loose during a special chapel service crashed into a glass window and crumpled to the ground.
Instead of flying directly from its trainer who had let it loose from the back of the chapel to another handler standing on stage, the 13-year-old, seven-pound eagle named Lewis veered off course and made a crash landing.
Several videos shared online of the service shows the eagle soaring through the air over the heads of mesmerized students in the packed Christ Chapel at the Tulsa, Okla., university. Students had gathered at Christ Chapel on campus for a special service marking the start of the 2013 fall semester.
As one video shows, the Bald Eagle circles the room and some students chant "USA!" as others cheer on the bird of prey. Seconds later, the cheers and chants turn into high-pitched screams, and even cussing, as students watch in horror as the giant bird's flight is abruptly cut short.
Watch this 14-second clip of the Bald Eagle's crash at Oral Roberts University:
Despite the shocking footage, the Bald Eagle, the national bird and national animal of the United States, was uninjured. In fact, another video clip (shown below) show's the bird's flight, crash and then his handler Roger Wallace comformting him before scooping him up onto his arm.
"It was a bit shocking to see, but we're thankful the eagle is OK," Oral Roberts University spokeswoman Carissa Bratschun told Tulsa World.
Bratschun was puzzled by the Bald Eagle's failure to stick to the script. Lewis has been doing such performances for several years and even put in practice time at the chapel before the Aug. 21 service at ORU.
"It had practiced five or six times," the spokeswoman said. "When the time came, we're not sure what happened. It flew around the room and then hit a window."
Despite assurances of the Bald Eagle's well-being, viewers of the recorded accident have expressed outrage and made charges of animal abuse.
"Pretty much par for the course. Brainwashed Christians who are supposed to be stewards of the Earth, who by and large couldn't care less or believe in our destruction of the planet, abusing a bird for entertainment and then laughing when it flies into a window," read one comment on a video of the accident uploaded by Lucas Cherry.
Cherry, a Masters of Business student at Oral Roberts University, defended his school against criticism.
"Oral Roberts University is an excellent university and I am proud to be a part of it. This video was of no disrespect to ORU. The eagle was completely fine and was trained to fly in auditoriums," Cherry wrote. "He flew at the Cardinals stadium last night. He was rescued after an injury to his leg and would have died had it not been for the bird refuge who took him in and trained him."
Oral Roberts University is an non-denominational Christian liberal arts school with an enrollment of more than 3,100 students from the U.S. and abroad. The university was founded in 1963 by evangelist Oral Roberts (1918-2009).
Watch "Golden Eagle Day" at Oral Roberts University, a video clip in which university president Dr. William M. Wilson encourages students to be "eagles for Christ." The school's student athletes are known as the Golden Eagles. The full service and message, titled "Lessons From the Eagle," can be watched in full at video.oru.edu.