Band of Nashville Brothers and Sisters, The Vespers, Are a Subtle Shade of Righteousness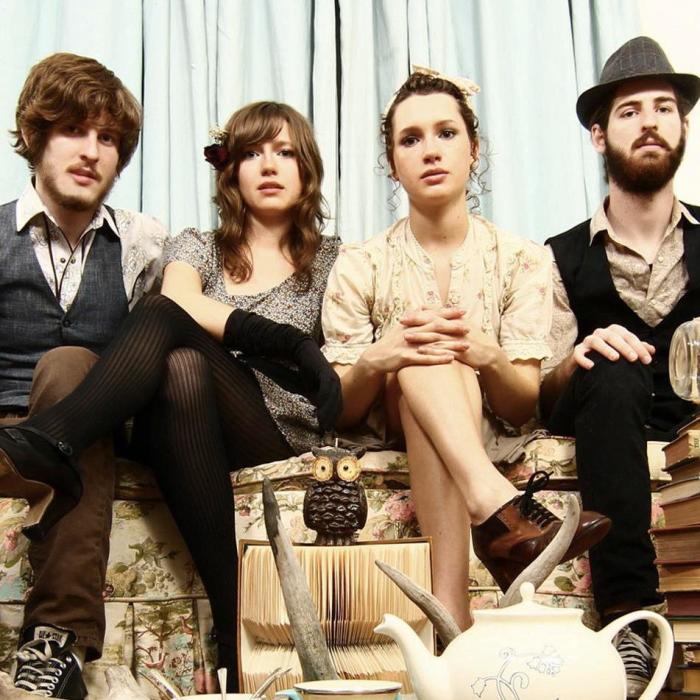 Hauntingly ethereal and memorable, a band of Christians made up of a pair of brothers and a pair of sisters called The Vespers seems to have perfected the art of touching souls with an elegant musical ministry that doesn't preach.
The sisters of the group, Callie, 22, and Phoebe Cryar, 20, were both raised as devout Christians while the brothers Taylor, 23, and Bruno Jones, 21, round out the group with a touch of rock.
On Sunday night, at the "New Artist Showcase" of the International Christian Retail Show held in St. Louis, Mo., the group delivered spirited performances of "Lawdy" and "Better Now," two songs from their latest record, The Fourth Wall.
"We are a very young independent band from Nashville, and we grew up there and we grew up playing music. We've been together for about four years and I've never done something quite like this. It's quite a pleasure to be here," said Phoebe in a simple introduction of the group to the audience at the end of their "Lawdy" performance.
Last year, Callie summarized the group's brand for the blog, No Depression.
"We're all four Christians. We're not a Christian band, but we're a band of Christians," Callie told the blog. "And we're all pretty seriously committed to that and it's very important to us. ... It's certainly something that people find out about us after they meet us. It's not like it takes a long time to realize that 'cause it's just how important it is to all of us."
And she is right. Wrapped in the sweet tones of the sisters' folksy music and the brothers' rock roots are lyrics that unabashedly express their faith, like those of "Better Now."
Mama says I can't be healed
Papa says I'm through
They say I can't use my eyes
Will never be good as new
Oh but I'm better now
Why do you shake your head no
Oh but I met a man
Oh and He's saved my soul
You don't believe me when I say
The man you knew was blind
But Jesus told me He's the light
Then Jesus healed my eyes
Oh and I'm better now
Why do you shake your head no
Oh but I met a man
Oh and He's saved my soul
Mostly though, said Phoebe, on Sunday: "We're just kids, we're mostly just blessed to be in this position because we have the opportunity, because we're not a 'Christian' band we have the opportunity to maybe play for people that aren't believers and they will listen to us because we are not preaching God at them, at first. They are not put off by what we are about."