Barbie Without Makeup: Photo by Graphic Artist Shows a 'Regular' Barbie (PHOTO)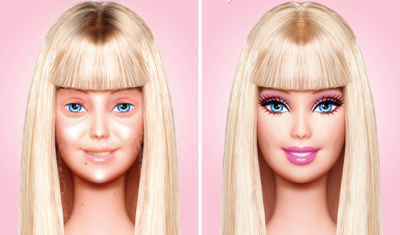 A Barbie without makeup has been featured by a graphic artist, showing the long time favorite doll following the recent trend of celebrities to be photographed without makeup on.
Barbie is normally seen donning makeup, but a graphic artist by the name of Eddi Aguirre has decided to show what the doll would look like sans makeup, and the result has gotten a lot of attention by online readers.
The graphic artists posted his creation on his online portfolio, showing Barbie with some freckles, some bags under her eyes, as well as imperfect hair. Some have commented that the Barbie also looks like she has been working the graveyard shift, as she appears sleep deprived and exhausted as well.
The graphic designed in fact comes from Mexico, and a caption above his Barbie pictures, roughly translated into English, reads: "Image used for a special makeup for the new magazine, Barbie shows before and after makeup (no one is perfect)."
Barbie has been seen throughout the past decades with perfectly polished, glossy and flawless complexion and makeup. People are used to see her her in that way, but according to some commenters, the recent image of a makeup free Barbie has been like a breath of fresh air, as it has reminded people that Barbie is an unrealistic role model for young girls.
"It's human nature for people to build up iconic figures and then tear them down," Fran Walfish, a child and family therapist based in Beverly Hills, CA, told Yahoo News. "We idealize public figures because we want something to aspire to but our standards are impossibly high. And when these icons inevitably misstep, we feel disappointed and angry that our hopes have been dashed."
Artist Eddi Aguirre's portfolio can be seen by clicking here.
Further images of the makeup free Barbie can also be seen by clicking here.