Basketball Broadcaster Ernie Johnson Reveals How He Became a Christian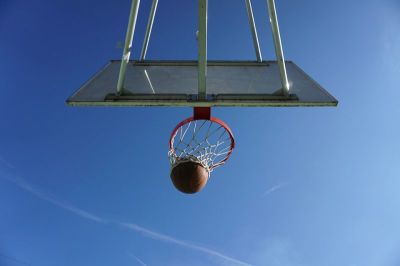 It doesn't get much better than this for basketball fans. With one of the most exciting NCAA Division I Men's Basketball Tournaments underway, and the NBA playoffs just around the corner, the Fellowship of Christian Athletes had the pleasure of talking with two basketball broadcasters about their faith in Jesus.
First, Ernie Johnson, one of America's top sports broadcasters, has become one of the industry's top faith voices as well. Johnson is profiled in the new issue of FCA Magazine, where he says that at the age of 41, he realized life was about more than becoming the best broadcaster he could be.
As the lead anchor and face of TNT Sports and host of "Inside the NBA," Johnson was used to appearing in front of huge crowds, both in person and on television. But speaking about his faith for the first time at an FCA event made him nervous.
In FCA's new story titled "Totally Honest," Johnson talks about his faith journey, the opportunities God gives him to shine for Him, and how Johnson strives to be the servant rather than the served.
Johnson was at the top of the broadcasting game, working alongside Hall of Famers and NBA champions Charles Barkley, Kenny Smith and Shaquille O'Neal for the Emmy-winning "Inside the NBA." Once a producer suggested the show go unscripted, it skyrocketed in popularity.
Now, 20 years after accepting Christ into his life, Johnson recalled what first brought him to an introduction to Jesus. His two oldest children, Eric and Maggie, asked Ernie and his wife, Cheryl, why they didn't attend church as a family. After some discussion, Ernie and Cheryl decided to attend Crossroads, a nondenominational church they drove by frequently in Atlanta.
Johnson was moved at the first service he attended, when the pastor asked the congregation two questions: Who's the provider in your family, and are you pursuing happiness or wholeness?
Those questions challenged Johnson, who knew he needed to be a better husband and father. Johnson returned to Crossroads the next three weeks, and then asked the pastor, Kevin Myers, out to lunch. On Dec. 10, 1997, at an O'Charley's restaurant, he prayed to God and became a Christian. Cheryl made the same decision a few months later.
Their pastor explained to them that even before they became believers, God was working in their lives. For example, beginning in 1990, they began adopting children out of love, empathy and compassion.
That year, Cheryl watched a "20/20" report on overcrowded orphanages in Romania, where thousands of children were being neglected. Five months later, in 1991, Cheryl convinced Ernie to adopt Michael, a 3-year-old boy with special needs. Michael eventually learned how to walk and later speak. Two years later, the Johnsons adopted Carmen from Paraguay. Then in 2011, they added half-sisters Allison and Ashley to the family. Cheryl had met the girls through her work with Street Grace, a faith-based organization mobilizing community leaders to end the sexual trafficking of children throughout the U.S.
"She has taught me so much," Ernie said of Cheryl. "I wanted to play it safe sometimes. She had bigger dreams. ... You have to put other people first. This can't be all about you."
As his faith grew, Johnson considered leaving TNT. Should he continue his career after turning his life over to God? Should he try to find a faith-based job? He asked Cheryl what he should do. She responded on his spiritual birthday by giving him a large compass as a gift. Cheryl's handwritten note with it reminded him to remember the day he found his ultimate direction in life—and to let God direct him.
Johnson ended up staying with TNT. He knew the platform God gave him would provide opportunities for him to share his faith. And God did just that.
Several moments for these opportunities stand out. First, in August 2003, after noticing a bump near his ear, Johnson was diagnosed with stage two Non-Hodgkin lymphoma. During that time, "Trust God ... Period" became his mantra. He was candid about his cancer after the NBA's All-Star weekend, and six grueling chemotherapy treatments later, Johnson's cancer was in remission, where it has remained since. He returned to "Inside the NBA" in 2006, never missing a show. A year later, Johnson won the Emmy for outstanding studio host.
"God sometimes whispers and sometimes shouts that His way is better than my way," Johnson said during his acceptance speech.
Years later, Johnson experienced hardship again when his beloved father died in 2011. About a month later, Michael, who has muscular dystrophy, was put on a ventilator to remain alive. Since then, Johnson spends most of his mornings caring for Michael, now 29, at their home.
Then soon after the most recent presidential election, "Inside the NBA" decided to discuss on air the results that left the country divided. In just over two minutes, Johnson's commentary resonated with many and was shared millions of times on social media.
"I never know from one election to the next who's going to be in the Oval Office, but I always know who's on the throne," Johnson said into the camera. "I'm on this earth because God created me, and that's Who I answer to. I'm a Christian. I follow a guy named Jesus; you might have heard of Him. And the greatest commandment He gave me was to love others. And Scripture also tells us to pray for our leaders, and that's what I'm going to do. I'm going to pray for Donald Trump."
Johnson sums up these opportunities to shine for Jesus—and the many more chances that will undoubtedly follow—with one concept.
"The Son of Man came to serve, not to be served," Johnson told FCA. "Being a servant is where I find myself."
Like Ernie Johnson, ESPN and SEC Network commentator Maria Taylor is in the middle of all the basketball action. But even still, Taylor told FCA that she finds her identity in Christ rather than in her high-profile occupation.
Throughout the exciting tournament, Taylor has been at the biggest games, interviewing tense coaches just before halftime and jubilant players just as the buzzer sounds. A Georgia native, Taylor is also a reporter for ESPN's "College GameDay" and ABC's "Saturday Night Football" and was the host of "SEC Nation" from 2014 to 2017, as well as served as an ESPN sideline reporter. In college basketball, she is a host of "Big Monday" and the NCAA's Women's Final Four studio coverage.
Maria answered a few questions for us about her faith for our "6 Questions" feature in FCA Magazine.
My favorite Bible verse is: "Ephesians 2:10. It tells us that every person is a handiwork of God and that we were placed on this Earth to do works that He has already laid out for us."
I intentionally bring my faith into my work by: "Always remembering that my job is not my identity. I find my identity in Christ."
Something most people don't know about being on TV is: "That there are hundreds of people who aren't on-air talent that make the broadcast happen."
The ministry of FCA is important because: "It reminds athletes that they are performing for an audience of ONE on and off the court or field and that there is nothing they can do or say to gain more love than they have already been given by Jesus."
One piece of career advice I'd share is: "Choose a career path that matches the strengths that God has blessed you with. Everyone was put on this earth to serve a unique purpose. Find that and a career that helps you live out your purpose."
One piece of spiritual advice I'd share with kids is: "Never stop praying. Even the shortest prayers can keep you close to God and relying on Him. When I find myself not praying as much I also find myself drifting away from God. But when I talk to God about everything I can feel Him working in my life and working on me."
Our March/April 2018 issue of FCA Magazine also includes a devotional from Ernie Johnson, a Q&A with Abilene Christian basketball coach Julie Goodenough and player Sierra Allen, a story on FCA Lacrosse's work in Ukraine and an essay from David Booth of the Detroit Red Wings.
Shane Williamson is the president and CEO of the Fellowship of Christian Athletes. For information on how to bring FCA to your school or campus, or for details about FCA Camps or events, visit
www.FCA.org
.